Oneupweb Reviews: Google Follow Finder
How cool is this? Google recently updated its live search results with a new feature called Google Replay, and now you can find people to follow on Twitter through Google! Enter Google Follow Finder.
Just type a username in the search field, to find people you want to follow. Below is an example of the results you will receive using Oneupweb.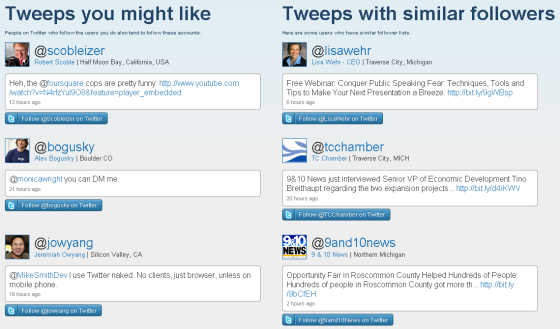 Follow Finder generates two lists based on your follower and following lists. Below Google explains the two lists:
Tweeps you might like: We start with the list of people you follow, find others with similar lists, and then identify accounts you might also want to follow. If people with similar lists tend to follow accounts that aren't in your list, we'll recommend those additional accounts to you. For example, if you follow CNN and the New York Times on Twitter, and most people who follow CNN and the New York Times also tend to follow TIME, we'll suggest TIME as a user to follow.
Tweeps with similar followers: We find people with similar public lists of followers to yours. For example, if ten people are following you, and the same ten people are following a second user, we'll include the second user in this list. You may already be following some of these people.
This all seemed great, and I couldn't wait to start expanding my 230 closest followers. But when I clicked follow, I received this error.

NOOO! I tried this on several browsers, using different Twitter account logins, but to no avail. I received the same error for each. Google you were doing so well.
I guess they are still working out the kinks. Until this is fixed it does us no good, and for that we give Google's Follow Finder an…
Official Oneupweb Review: Thumbs Down