Oneupweb Reviews : Groupon
I'll admit that I really have not caught the Groupon fever that seems to be running rampant in the online world. It has a lot to do with the fact that Groupon has not had any deals in Traverse City—until now.
A colleague sent me an email this morning titled "Suhhh weeet", containing a link to a Groupon offer for a local ski resort. I clicked on it, and was instantly drawn in.
Perhaps I should backtrack right here. For those of you who don't know, Groupon is an online service that provides "deals of the day" to different cities. The site partners with companies around the country to offer discounts and limited specials to people, provided a certain number of people sign-up for the deal. The merchant can set the number that has to be reached for the deal to be active, and a deadline for the deal to be taken offline. The idea is for others to spread the word about the deal (and therefore the merchant) to their friends and family, and the one-day deadline that usually accompanies these deals compels people to buy now.
A few months ago I read a Facebook post about a small coffee shop that had tried out Groupon. The owners were extremely unhappy and almost went out of business because they felt Groupon mismanaged their account—too many people purchased the deal and it was too much for the coffee shop to be able to sustain.
Now I'm not sure who's really at fault here—Groupon for not stopping one of their merchants from making a poor business decision, or the owner of the coffee shop for not thinking this through. But either way, ever since reading that post, I've been a little leery of Groupon. But my co-worker was so excited about this ski resort deal, I decided to approach Groupon with an open mind, with the full intent to write this blog. Here's what I found out.
When I navigated to the deal, there was a giant green button compelling me to "Buy!", accompanied by a timer that let me know I had one day, 14 hours and 11 minutes left to purchase the deal. So I clicked it.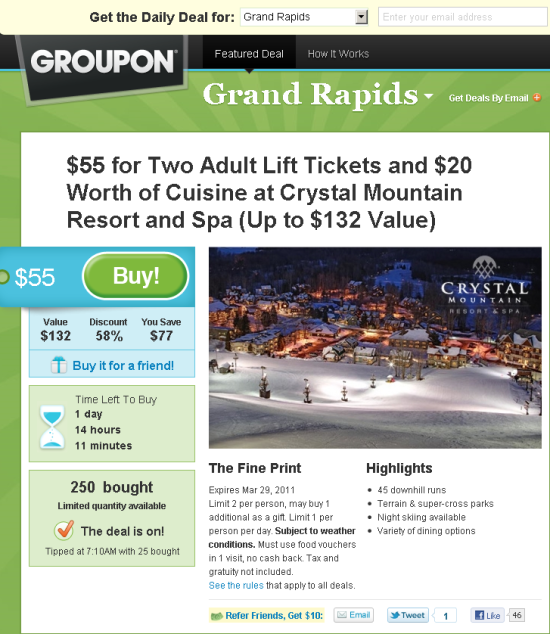 I was immediately taken to a payment screen showing me what I was about to purchase and asking for my method of payment.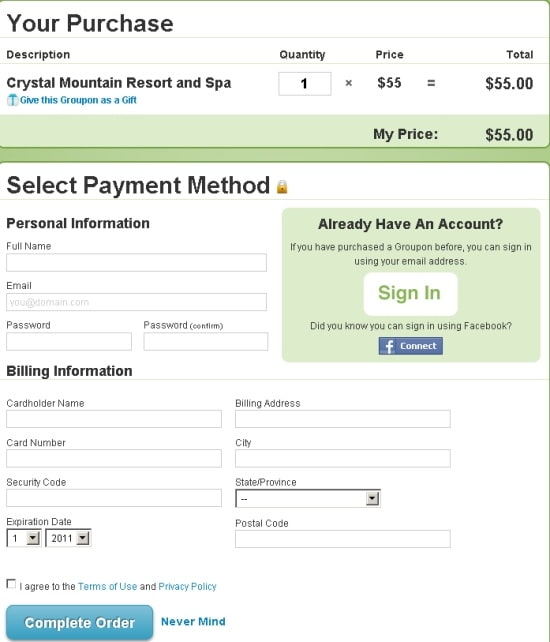 Once I entered my payment information and completed my order, I was greeted by a pop-up screen letting me know that I had purchased the deal, and that I would receive an email notification when it was ready for me to print.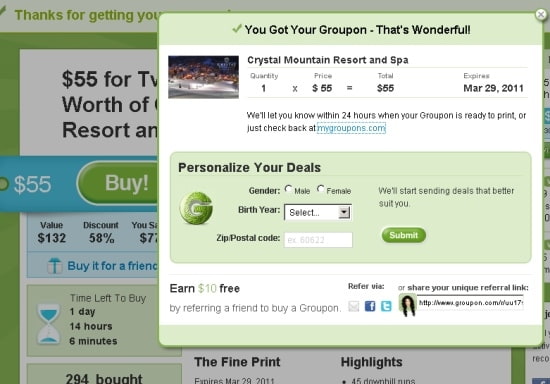 It appears I was number 294 to purchase the deal. At $55 a piece, that's $16,170 in revenue in less than a day. That doesn't seem all that bad to me. Of course, I'm not sure how much actual revenue this ski resort will make when all is said and done, after Groupon takes their portion and after you factor in the discount. One thing that I did notice is, this Groupon wasn't advertised in the Traverse City area. It was targeting Grand Rapids, a large city downstate. So I'm sure the idea was to bring new customers to the ski resort at a discounted price, in the hopes that they will return in the future at full price.
Will it work? That remains to be seen. But I'll be getting my skis and boots down out of the top of the garage to hit the slopes this weekend. As a consumer, I couldn't be happier with Groupon. I give it a…
Oneupweb Reviews: Thumbs Up!
What do you think of Groupon? Have you found some great deals? Or are you a business that has used Groupon? I'd love to hear your thoughts in the comments below.
Update: At 11:06am, this deal sold out.