Oneupweb Reviews: Hollrr!
Just the other day Lisa Wehr and I were tweeting about the latest technology products. "We are such consumers." I said. Lisa replied, "You bet. I must have new and flashy." If you're anything like most of us at Oneupweb you love new gadgets, and just recently I discovered a site that allows you to keep up on great new products and services that your friends are discovering. Meet Hollrr!

If you're familiar with Twitter, or Foursquare, Hollrr will come pretty easy to you. The only difference is that instead of updating people on anything and everything, with Hollrr you update people on products or services that you bought or used. Hollrr believes there is enough of a market for this type of service.
On Hollrr's About Us page they say they love underdog companies.
"We love the products they make. We love the passion of their employees. We love that their founders put everything on the line to follow their dream and bring you something you think is awesome."
We've looked at the social networking and search engine trends before in some of our White Papers, and people are relying more and more on reviews from people they trust. Hollrr may have caught onto something here. We like the idea behind Hollrr, now let's see how they've implemented this idea.
After you've signed up and logged in, click on the All Products button in the upper right. This is where it got interesting for me. From there you can explore trending tags. This alone is a wealth of information!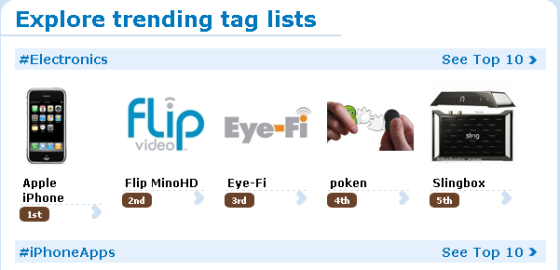 You can choose from the many trending tags in just about any area of interest. I chose the #electronics top ten to get started. From there I was given a list of top ten trending electronic products. Of course, you have the typical popular products, like the iPhone and Macbook, but I wanted to see some underdog products that I hadn't heard of yet. Skull Candy Ear Buds, hmmm, that looks interesting.

After clicking the link I was able to see what others had to say about the product.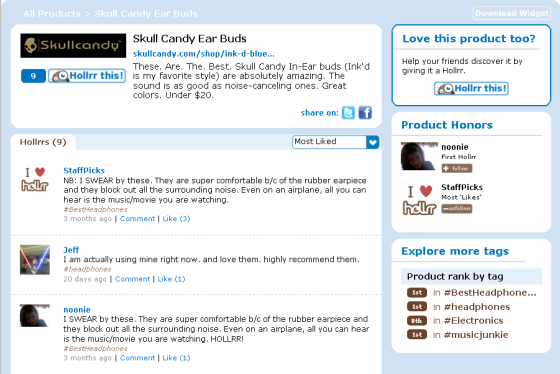 From there I cruised on over to Skullcandy.com, and like everyone said this product looked pretty cool.
There are many more features included in Hollrr. You can search for popular products within the last 30 days, or the most popular overall. You can earn points, win badges, and even become the owner of a product.
If you couldn't tell already, I'm pretty excited about Hollrr. Only time will tell (in the midst of all the real-time, location based, micro blogging services) if Hollrr stays afloat. But as for Oneupweb, we give Hollrr an
Official Oneupweb Review: Thumbs Up!