Oneupweb Reviews: New Facebook Search Feature
Today Facebook has released a subtle change to its search function, all in an effort to make connecting with friends, pages, groups, and events more intuitive.
When you begin typing a search query, you will see a drop down menu with suggestions from your network. But these suggestions are not limited to your direct network alone. If one of your friends is a fan of a business's Fan Page, and Facebook deems that page relevant to your search, it will be suggested as well.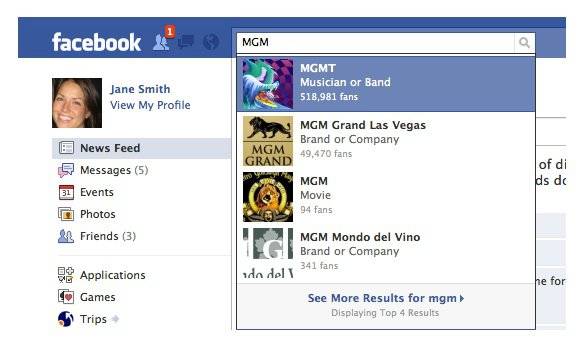 If you still haven't found what you're looking for (queue U2 chorus), you can navigate to the search results page by selecting See More Results from the bottom of the drop-down menu. Now I've tried this feature, and it appears to have been rolled out to most users; however, I did not see the "See More Results" option in the drop down menu yet.
So far, what's not to like about the new search feature? It's a more intuitive way to discover people, businesses, information, etc. on and around your network. My only fear is that this will someday become a method for promoted search suggestions. But then again as long as the ads are relevant to the search, (and not like some Weird Facebook Ads) then I suppose those could be welcomed by some too.
Official Oneupweb Review: Thumbs Up