Oneupweb Reviews : Quora
Quora.com was founded by two former Facebook employees: Adam D'Angelo and Charlie Cheever. D'Angelo is the former Chief Technology Officer of Facebook and Cheever oversaw the creation of Facebook Connect, which has since become part of the social network's Open Graph. According to Quora.com:
Quora is a continually improving collection of questions and answers created, edited, and organized by everyone who uses it. The most important thing is to have each question page become the best possible resource for someone who wants to know the answer.
After spending a few days using the service, I'll admit I'm not very impressed. The interface is not user-friendly and it's quite glitchy.
For example, Quora users follow topics. One of the topics I follow is titled:  "Roller Derbies." This doesn't really make sense; it should just be "Roller Derby." What's frustrating is I can't easily edit the topic or add a topic titled "roller derby."
You can search for topics that you are interested in, but that list is quite limited. There were several topics I was interested in that were not listed, like ping pong.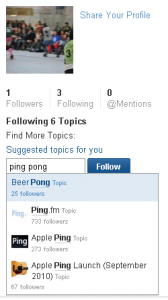 What's annoying is that it doesn't give you the option to add "ping pong"—not very user-friendly in my opinion.
The reason I found it glitchy is because Quora users are supposed to receive a "notification" when someone answers or comments on a question you asked. I asked the question below but was never notified when this nice man named Christian answered the question for me: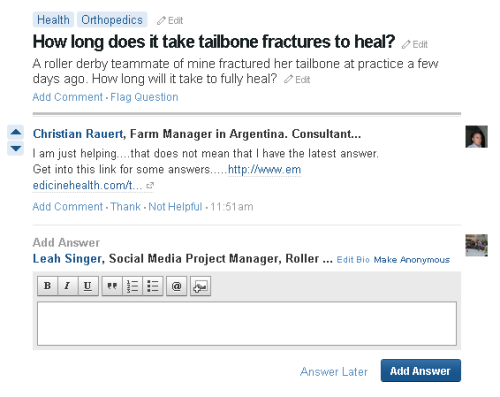 At this time, I think asking questions on Facebook or Twitter is more user-friendly. However, I understand the premise behind Quora—ask a question, and get a good, quality answer.
Perhaps once Quora gets a few of the kinks worked out it will become more of a reliable source, but as of this moment I give it a Oneupweb: thumbs-down.
What do you think of Quora? Do you agree with my review? Please leave your thoughts in the comments section below.