Oneupweb Reviews: Social Networking Sites for Families
Last week I was arguing with the wife about something I'm sure you've thought about: How cool would it be to be a Care Bear? Looking at an awe-inspiring cluster of cumulonimbus clouds I was thinking about how lucky those bears are – to live in the clouds, now that's the life.
Well the wife disagreed, and countered with the fact that there is no diversity in clouds. No rivers, no trees, no variety. I was shocked, and thought how could anyone not want to live in the clouds? Besides, staring up at the clouds I have seen all kinds of shapes. There's no reason there couldn't be rivers, trees or whatever. Ahh, good times with family.
It's nice to have family to share your crazy with. Or as I realize after seeing my family, I'm not that crazy after all. And that's what Fourth of July weekend is all about, right? Spending time with family and getting some perspective on how blessed we all really are. In today's review let's see if we can't help bring your family together by listing some of the top social networking sites for families.
Family Crossings has many features that make for a great family social network. Users can share news, videos, photos, live chat, exchange gift lists, share daily calendars and more. The site offers Free and Premium versions. The Premium version allows for more storage i.e. more videos, photos, etc. and includes more features like family history, family polls, and games. Premium version pricing starts at $9.95 per month.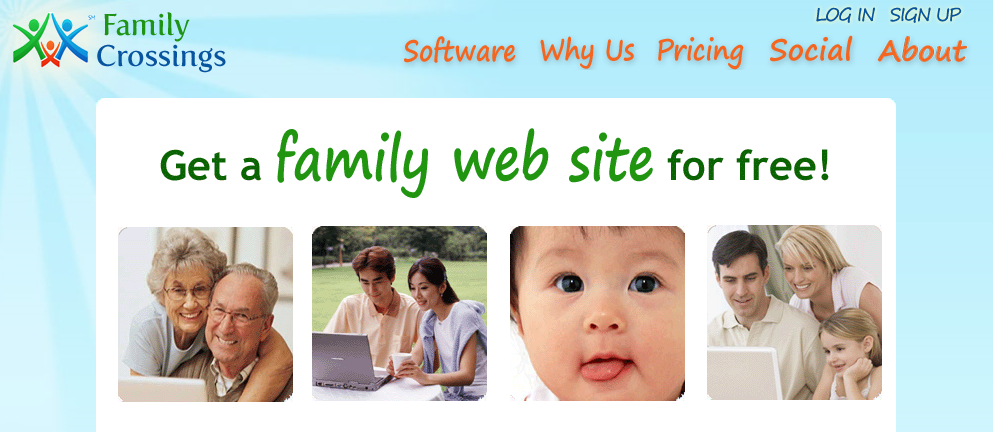 If it's mostly images you're looking for, Shuttlerfly is a popular site for storing and sharing photos. You can create a unique site with family updates, pictures, videos, and a family calendar. Shuttlerfly promises to never delete your photos. And the free services are robust and useful.

Does your family use any of these services? If so, let us know what your thoughts are in the comments section below.