Oneupweb Reviews: StarCraft II Wings of Liberty – The Social Media Strategy
It's a big day for geeks all around the world. Today one of the biggest games in history is being released: StarCraft II Wings of Liberty. 11 years in the making, the newest version of this epic strategy game played by millions has finally arrived, and geeks like me can't wait to get their hands on it.
The YouTube video above has received over 3 million views in 6 days. StarCraft, the original game, also holds several marks in the Guinness Book of World Records.
StarCraft II YouTube Channel: Total Upload Views = 4,602,811

In addition to the StarCraft II YouTube channel, the game has made waves by effectively using social media channels like Facebook and Twitter. With over 370,000 Facebook Likes, it's safe to assume creating StarCraft II's Facebook page was a good move for Blizzard Entertainment, the creators of the game series. Blizzard has also setup individual Facebook pages to target several countries, including Korea, Italy, Singapore, and Russia.
StarCraft II's Facebook Page: Over 370,000 Facebook Likes
Last night, Blizzard Entertainment held midnight premiers all over the world to kick off the launch of the highly anticipated game. Photos of the Global Midnight Launch events were also uploaded to Facebook.
StarCraft II's Twitter profile has also been very effective – having already acquired over 38,000 followers. Similar to its Facebook Page, separate Twitter profiles have been created to target several different countries.
StarCraft IIs Twitter Account: Over 38,000 Followers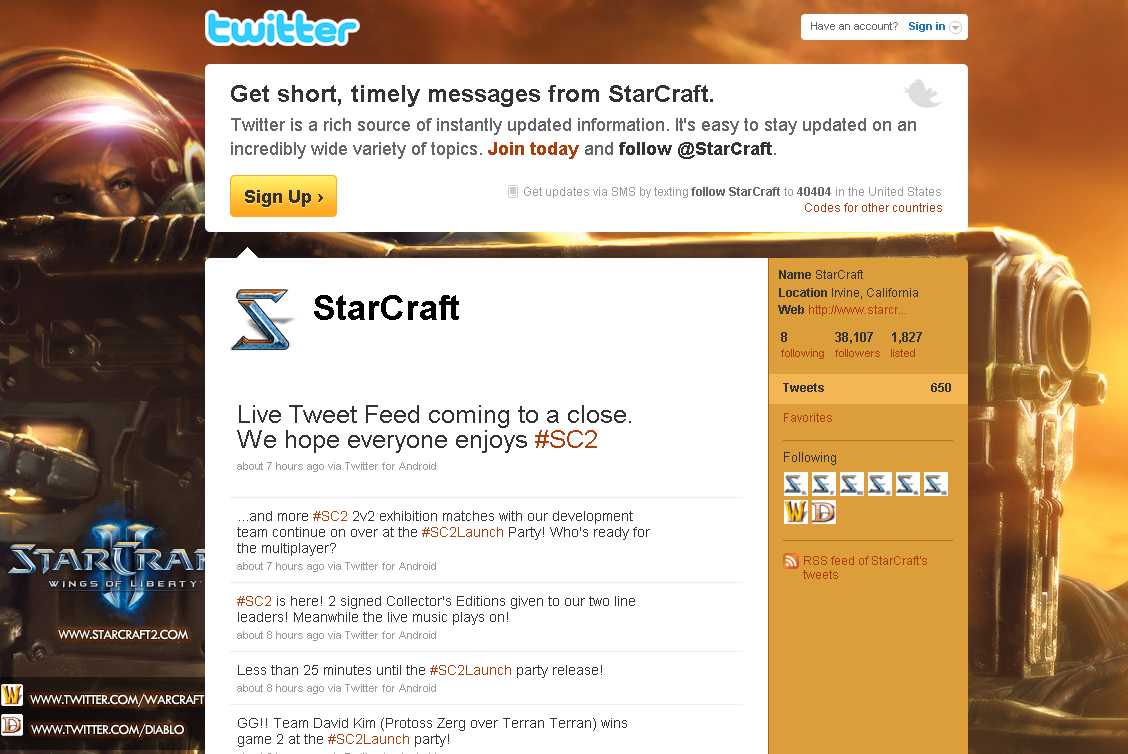 Being a Gold Level beta tester (this simply means I'm awesome, he he) I can vouch for the game itself. It really is something else, and certainly lives up to all the hype. But the use of social media for marketing and promotion of the game is what I wanted to focus on with this review.
Blizzard Entertainment has done a great job connecting with fans of the game on almost every social media channel possible. For great use of YouTube videos, Facebook Updates, Tweets, and much more on Starcraft2.com, we give the marketing strategy for this epic strategy game a…
Oneupweb Review: Thumbs Up!