Oneupweb Reviews: The New MySpace—Is It Love At Second Sight?
In a previous blog I wrote about MySpace, I mentioned that it will always hold a special place in my heart. It was the first social network I joined, and is responsible for my love of design and website creation.
Though MySpace and I have a past, as far as I was concerned, there was no future. Or is there? Today marks the launch of The New MySpace—a complete redesign with the goal of revitalizing the once uber popular social network. So let's take a look and see if MySpace is able to woo us back to the love we once all shared.
Mike Jones, CEO of MySpace, said of the new design:
"We call this social entertainment. Everything about the new MySpace—from the layout and design, to the color scheme, and even our logo—has been remade to deliver the best social entertainment experiences.

The new MySpace is cleaner, with a fresh design that puts content center stage. It's also smarter, providing you with a personalized experience by recommending content based on your interests. And new tools like the Discovery Tab, My Stuff Tab, and 'Right Now on MySpace' show you what's trending on the site and make it easier for you to save and share it.

These are just a few of the things you can find in the new MySpace. For info on all the new features, and a fun video, check out www.myspace.com/newmyspace."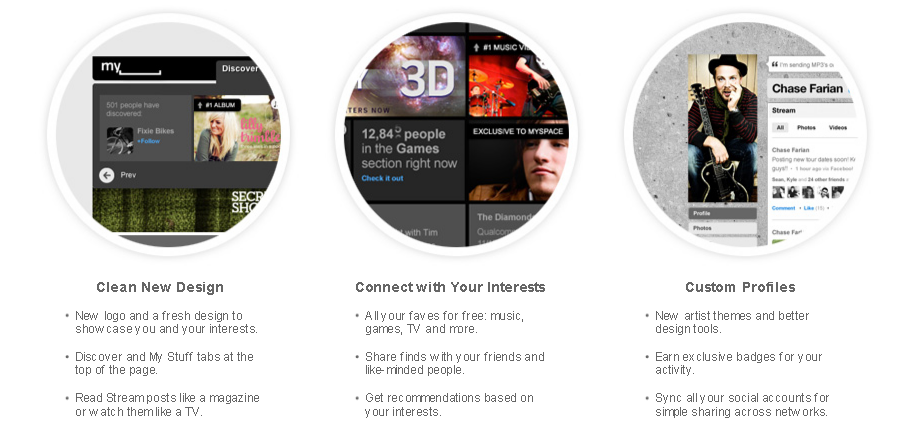 The redesign is a much needed push back in response to Facebook. MySpace has made it a point to not sound like they are competing with Facebook, but we all know they are.
With the new design the focus is on entertainment. MySpace's specialty has always been music and movies, so now they are honing in on this more so than ever.
Oneupweb Review: Thumbs Sideways
I'm torn here personally because all my friends are now on Facebook. So it's great that MySpace is finally taking care of itself, but for me I've just moved on. Sorry MySpace, you had your chance, and I wish you the best luck in the future.
So MySpace is calling you. Its got a whole new sexy look and wants to hook back up. Are you going to answer the phone and give it another chance? Let us know in the comments below.