Oneupweb Reviews: TweetPsych's New Features & Improvements
TweetPsych, launched last June by social media and viral marketing scientist Dan Zarrella, now provides psychological profiles for people grouped together in Twitter Lists. Called TweetPsych Lists, this new feature works much like the original TweetPsych by using two linguistic algorithms to compare a group of tweets to a baseline (in this case the "average" Twitter List). (Read Oneupweb Reviews: TweetPsych, which talks more about how TweetPsych works.)
Whereas TweetPsych requires a person's Twitter username, TweetPsych Lists requires a list URL. Entering URLs from list sharing sites such as TweepML won't produce results. All URLs must come directly from Twitter.com. In addition to releasing TweetPsych Lists, Zarrella has also improved reporting for TweetPsych and TweetPsych Lists.
Results reveal 20 standardized categories; each one offers a simple explanation and percentage that tells you how your list or individual account compares with other lists or accounts. Those categories correspond to a color-coded chart at the top of the report. So below we can see that Ashton Kutcher (username @aplusk) tweets more about sex and media than most Twitter users.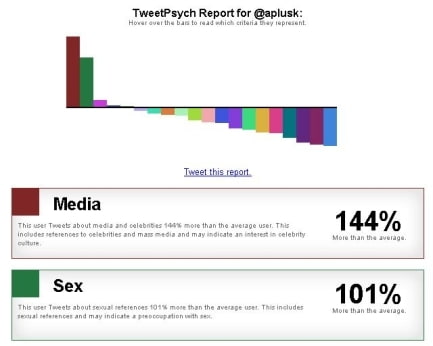 These new results provide better category explanations and more useful data than before. For example, the "Moral Imperative" category is now called "Control" and is explained as "a desire to impose order." And rather than providing a score of 10.7 for that category, which is what you would have seen last June, we receive a percentage that says Kutcher tweets about control 30 percent less than other users. These easy-to-read results simplify comparing lists and users.
Improved reporting and the ability to analyze Twitter lists make this a fun tool, the operative word being "fun." Zarrella still doesn't explain his methods, so any number of variables may change the results you receive. For example, does the tool take out initial, exploratory tweets where you were just learning what Twitter was all about? With TweetPsych Lists does influence play a role, meaning influential Twitter users' tweets weigh more? No one knows.
It's safe to say, however, that TweetPsych reinforces how important it is to think before you tweet.
Official Oneupweb Reviews: Oneup Thumbs-Sideways, leaning towards up. (The new improvements make this a fun tool, but there are still too many unanswered questions about Zarrella's methods.)
Up Next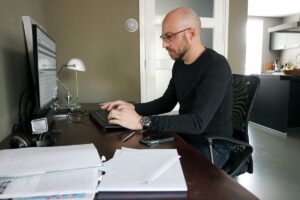 Blogs are an incredible tool for building brand awareness and even driving sales. The best way to get long-term benefits from your business's blog posts is to prioritize SEO and thorough topic planning. Here are the basics and the detailed logistics to know.   The Basics 1. Choose effective topics. Successful content marketing requires creating...