Oneupweb Reviews: Twitter Geolocation
Geolocation-based services have been dubbed as the web's next big thing. There has been a proverbial war going on between location-based services like Gowalla and Foursquare.  Facebook is even adding integration with these services to its platform. So it comes as no surprise that Twitter has expanded its geolocation feature to stay competitive.
You may have noticed on your Twitter home page that there is a new feature – Add a location to your tweets. If you want to add this feature – Turn it on. Don't worry, you can choose individually whether or not your tweets will include a location (we'll cover that later).

From there, you will be prompted to turn on the feature once again.

After following the above instructions, the location feature is now enabled. Now your tweets will include your location like the image below.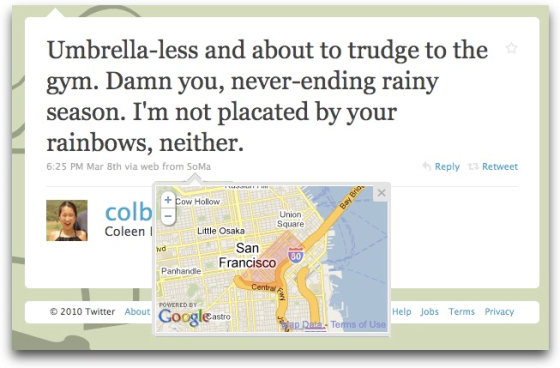 While the Twitter geolocation feature has been live through its API since last November, this is the first we've seen on the site itself. Also, the location is no longer by your coordinates (longitude and latitude) alone, but includes your town or neighborhood.
One of the features I appreciate is the ability to choose how specific you want to be when it comes to your location. Tweets can display the 'place', exact coordinates, or both. The default display is 'place' (like a neighborhood or a town). So instead of saying exactly where you are at, by default, Twitter will add your location as a city or neighborhood, keeping your location fairly general.
Although (so far) Twitter's location feature lacks checking-in as an incentive like Foursquare, in general, it is a welcomed add-on. I also appreciate Twitter giving users so much control over the feature. If you don't like it you don't even have to use it. But they don't stop there. Once you opt-in, you can also control how specific you want your location to be. And if that wasn't enough, before you send out each tweet you can decide whether or not you want that particular tweet to include your location.
Official Oneupweb Review: Thumbs Up