Oneupweb Reviews: Wildfire Social Media Monitor
It's not only important to know where your company stands in social media, but also how your main competitors are doing as well. Do they have more fans than you? What are they doing the same, and what are they doing differently? Or maybe another way to put it—what are they doing better than you?
Wildfire recently launched a social media monitoring tool to help you answer a few of those questions. Specifically, the Social Media Monitor let's you compare the amount of Facebook likes or Twitter followers for three different brands. All you do is choose the appropriate Facebook pages or Twitter handles, and you receive a chart showing you how the three brands compare. Below is a screen shot displaying Walmart, Target and Amazon Facebook pages: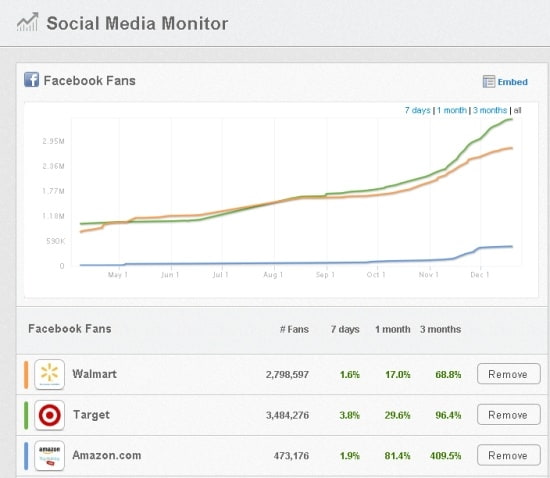 Target seems to be performing better that Walmart and Amazon, as it has more fans.
Here is a screen shot of the results comparing Domino's Pizza, Papa John's and Pizza Hut Twitter handles: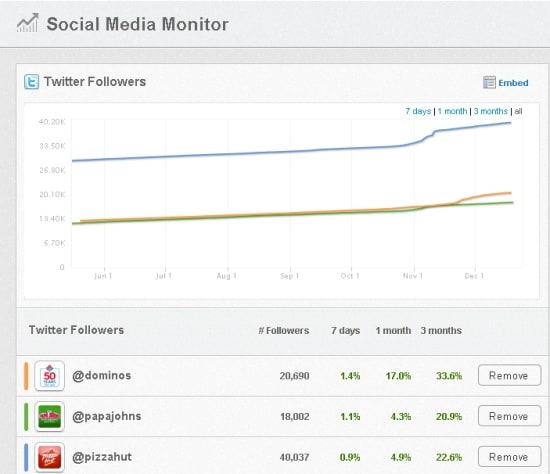 In terms of Twitter followers, Pizza Hut seems to be well out-pacing both Domino's and Papa John's.
I'm a little disappointed that this is all that the Social Media Monitor looks at. Rumor has it that the tool will soon be measuring Facebook Place check-ins and overall fan/follower engagement. I hope this is true. Until then, I have to give this a…
Oneupweb Reviews: Thumbs Sideways!
What else do you think would be helpful to monitor the overall social media performance of your company vs. your top two competitors? Let me know in the comments below.