Oneupweb Reviews: YouTube Thumbnail Flipbook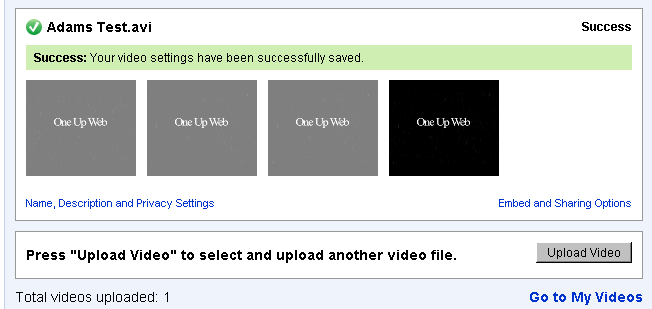 Have you ever uploaded a video to YouTube and wondered if it's actually being uploaded? Or after waiting an hour for your video to upload, you find out there was an error, and you have to start uploading from scratch?
This has happened to me on more than one occasion, especially the larger my video files get. And with high definition becoming more popular the upload times have grown right along with the size of the videos. That's where the new thumbnail flip book feature comes in handy.
Now when you upload a video to YouTube you can see a thumbnail flipbook of your video. This is not only great to watch, but it assures you that your videos are indeed being uploaded to YouTube.
YouTube's blog says the video must be a fast start video to see the thumbnails during the upload. If it's not then you will see the thumbnails after you upload like this:
Official Oneupweb Review: Oneup-Thumbs-Up
This feature has been incredibly useful with my video uploads. My guess is that it will become even more popular the larger video files become. At the very least it gives the user the peace of mind that their video is being uploaded and processed, and the assurance that their time waiting for the upload is not being spent in vain.