Oneupweb Reviews: YouTube's Countdown To The Most Memorable Videos Of The Year
Normally on New Year's Eve I spend time with family and friends counting down the seconds until the ball drops. But not this year! Instead, I'll be counting down the most memorable YouTube videos of 2010!
Thanks to YouTube and HTC, you too can watch this year's most memorable videos as they are released everyday—leading up to December 31st! A special NewYears Countdown page has been created, highlighting 31 of the year's most memorable videos.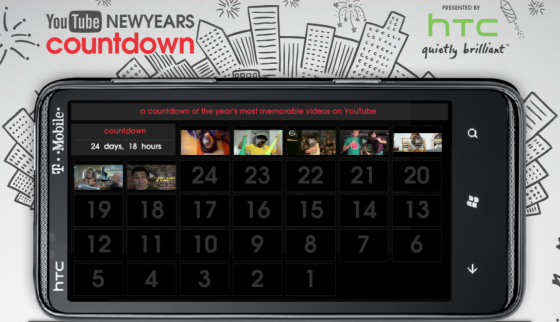 I have to say (spoiler alert), I love this. Anytime someone can filter through all the dumb videos that force me to leave a comment like "Thanks for taking 2 minutes of my life that I will never get back" — I'm all in. And this is exactly what the YouTube NewYears Countdown page does.
Now you could enjoy other activities like spending countless hours on Reddit, going raiding with your W.O.W. guild, or raising a family. But first things first. Navigate to the countdown page! (You weren't going to go off and raise a family yet were you? Geez. I think it's time for you to sort out your priorities.)
Once on the countdown page, you will see the videos listed in a calendar style. What's really nice about this Flash interface is that you don't have to navigate to the actual YouTube page. You can watch all the videos from this one channel. Nice! I give it a…
Oneupweb Reviews: Thumbs Up!
So if you haven't yet, go check out the most memorable YouTube videos of 2010. And keep your eye out for other ways YouTube will highlight videos in the future. I hear they are planning to do more of this type of thing.
And of the videos listed so far, my favorite is Flower Warfare – Psychedelic Action Scene. Let us now what your favorite memorable videos of 2010 are in the comments below.