Oneupweb : Shopping Cart Love at First Site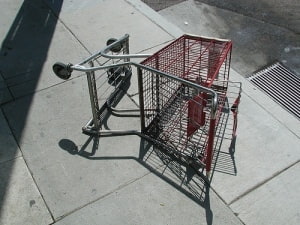 If you've ever made a midnight run to your grocery store to refill on salsa, you've seen them. Sitting there, empty, unloved and isolated. If you get close enough you'll swear you hear them whimpering. Yes, my friends, I'm talking about a subject not often discussed due to its sensitive nature. Almost taboo in some circles—the abandoned shopping cart.
Now, admit that you've done it before—abandoned a perfectly good shopping cart while shopping online. We've all contributed to this blight on the internet landscape.
"No harm done," you say…"it's just a shopping cart." Well, some developer somewhere spent 20 hours a day for weeks in his basement writing code to create that shopping cart. Have some compassion!
Fear not good readers, for it's Google to the rescue! A champion of so many worthy social causes, Google has developed a process they call Remarketing, which helps rescue abandoned shopping carts.
It's not a new idea, but Google hopes to make a big splash with this new functionality in its clients' AdWords accounts. E-commerce sites and shopping carts around the world are loving it! Imagine having the ability to identify what a shopper viewed on your website, placed in their cart, but did not purchase. With Google Remarketing, the item they desired on your website, but didn't purchase, will be advertised on websites that they visit after abandoning your site. How cool is that?
Think "Minority Report", where ad bots scan your pupils to identify you and serve ads based on your personal profile. Some of you may think it's a bit creepy, but, my take on it is—thank goodness! There's nothing more annoying than random ads that have no relevance to me or my interests. Maybe you've seen those debt refinancing ads featuring extremely hairy individuals. Yuck!
So, the next time you plan to make a purchase online, save a shopping cart from a cruel fate. Be bold and actually make the purchase! But rest easy. If a thrilling Stanley Cup Finals game distracts you from completing the purchase, know that Google is on the case.
Let's share Google's mission to save one shopping cart at a time!