Oneupweb : Single Local Listings, They are A-Changin'
If you've been doing some branded searches in Google recently you may have noticed something different about the way single local listings are being displayed. It looks like Google recently rolled out an update to these particular listings that includes a couple of new features and revisions to the old design.
For example, take a look at this listing for a burger joint in downtown Traverse City,  MI. As you can see, the updates to the listing are fairly minor; however there are some specific changes that caught my eye…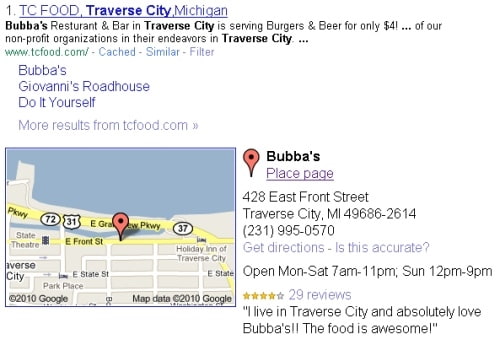 Let's take a look at the highlights:
The natural search results for the business show up above the local map listing
A second balloon marker now shows up next to the listing's information
Reviews are displayed for some listings, but according to some, there appears to be some new stipulations about what shows up
The old "More Information" link has been changed to "Place Page" and moved underneath the business name
The business's website URL is no longer displayed under its name
The business name no longer links directly to its website
The last couple items above are what really stick out to me—no website URL displayed and the business name no longer links directly to that business's site. In terms of the local result, the only option searchers have left if they're looking for more information is to click the map to go into Google maps or navigate to the Place Page, which does link to the actual site.
Is it just me, or does it seem like Google is adding an extra (unnecessary?) step to get people where they want to go? It looks as if Google is taking a page out of Bing's book and trying to keep searchers on their site instead of simply pointing them in the right direction through search results.
The real question here is how will these changes, particularly the website link change I singled out above, affect site traffic? What sort of impact will that small, yet extra step have on fickle searchers who just want to get to a site, not spend more time on Google?
Granted, these kind of single results probably show up for more branded searches than non-branded, and thus are usually only seen by searchers who already know what they're looking for. But what if Google decides to roll these changes out to their other local listings? How might the absence of a direct link to a business's website in 3 or 7-pack local results impact the traffic they usually get from those listings?
We'll have to wait and see. Until then, please share your thoughts.