Oneupweb : Super Bowl Sunday is Still Buzzing on Monday
I didn't watch the Super Bowl last night because of a previous engagement, so I wanted to get a recap this morning of what happened. I learned a few things while hanging out around the water cooler at work this morning:
The Packers won.
Christina Aguilera got confused.
The halftime show with the Black Eyed Peas, Fergie Fergs and Slash was…interesting.
And the commercials were meh to OK.
All of the information was pretty vague, except for the first item. So I had to do some further investigating about items 2-4. I can tell you that those topics dominated my Twitter searches more than highlights from the actual game.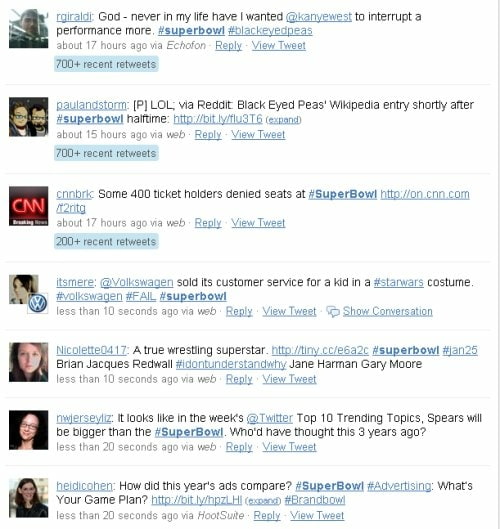 Here's what I discovered:
It appears as if the top commercial of the night was the Volkswagen: The Force with mini-Darth Vader trying his best to harness the dark side. YouTube has compiled the commercials from last night with its Ad Blitz program. What was your favorite one of the night?
Christina's mishap wasn't really as bad as I thought it was going to be. Sure, she screwed up one word in our Nation's Anthem in front of millions and millions of people, but that part doesn't bother me as much as she really decided to make that song her own. Good grief.
In regards to the halftime show with the Black Eyed Peas and Slash, there were some sound issues in the beginning, but from a visual perspective it looked pretty sweet. I could have done without the Slash/Fergie Fergs "Sweet Child O'Mine" rendition, but I've been a die-hard G n' R fan since I first heard "Welcome to the Jungle" on my older sister's cassette tape years ago.
Now I turn to you. What was your favorite highlight from last night's Super Bowl? Does it have anything to do with the game or is it all non-football related?