Oneupweb : The First 2011 Oneupweb Barbecue
Last Thursday was my first Oneupweb barbecue—and the first for 2011. Yes, we have barbecues at WORK! This job is by far the most "social" job I've ever had! Along with our fully equipped work-out room, our state of the art game room (and game days), we actually have a cement barbecue pad, picnic tables and lawn chairs—right on the beach of beautiful West Grand Traverse Bay! Where else can you work and enjoy such decadence?
As you already know—I am NOT a part of the brains of Oneupweb—the accounting manager doesn't design, draw, navigate, market, write creative ad or bring in the clients! But, I DO like to eat and have a good time as does everyone at Oneupweb. A barbecue is a commonality among everyone. The best part about these barbecues? These barbecues are every other week! We don't have to wait until there's an event to celebrate! Although, we should really have a party of some kind for all the awards Oneupweb brings in—something I'm excited to suggest to our CEO, Lisa. Check out our website, OneUpWeb.com to see the awards we continue to amass. We'd probably be barbecuing or partying a couple times a week! Hmmmm….I wonder if she'll go for it…ya think?
This barbecue got off to a great start by having a "class" picture taken! Squeezing 30-some people in a photo was a feat our photographers probably figured was easier with our empty bellies rather than after eating with full bellies!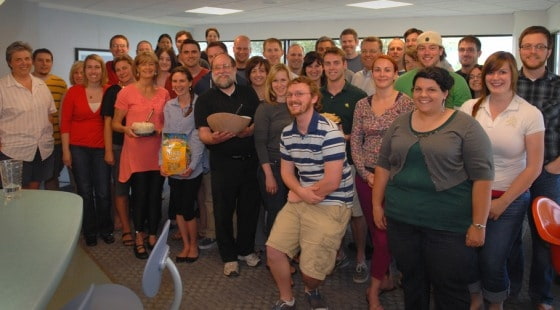 As we all know, barbecues revolve around FOOD! There was plenty of it!! Lisa supplied the meat—four different kinds of brats and hot dogs! MMMmmmm….I'm salivating at the memory!
Our Director of Operations, Tim was at the helm of the grill, displaying his expertise in what he loves to do! He actually put himself through college sweating over a grill! And we get to benefit from his expertise!
No barbecue is complete with out baked beans and this one was no exception! Along with the standard fare of chips, salsa and dips, we had several different salads—various pasta salads and potato salads. And we even had a delicious vegetable pizza! Desserts ranged from healthy (watermelon) to indulgence (indoor s'mores, cookies, brownies, a coconut cream pie that was to "die for") and MY favorite: butterscotch haystacks (you can get this easy-peezy recipe at Cooks.com). I was so thankful the line went past the dessert counter first—I was among the last in line and the first to eat some of the sweets!
Once I got to the main fare my tummy had stopped growling and was preparing itself to enjoy the brats and other accoutrements! That was the best lunch I've had in a long while! The only things that could have enhanced the barbeque would have been a nap afterwards and some nicer weather…..then we could have enjoyed the barbecue outdoors. However, it IS Northern Michigan after all and the weather is very unpredictable! We're just grateful our grill is not snow covered this time of year!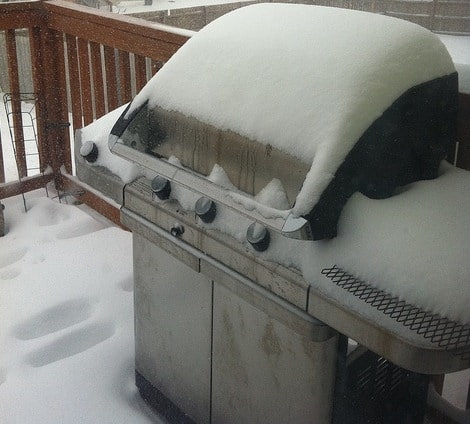 It's a good thing we have another barbeque next week! We'll hope for warmer temps and some sunshine. And if the clouds and rain take over, then we'll enjoy it indoors and try again two weeks later…ahhhh the advantages of working at Oneupweb! Hey, you might like it too! We're hiring! Check out our available positions before you miss out on all the fun!