Oneupweb : The Hashtag of Broken Hearts
Hashtags. If you've spent much time on Twitter then you've probably seen one. They're the space-free word/phrase links that begin with the # character. They work similarly to a tag found in a blog post, except that they're written within the tweet itself rather than assigned to it. Clicking or searching for one will result in a list of tweets which contain the same tag, allowing users to read posts based on an area of interest.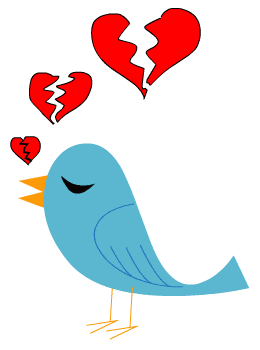 One of the more recent trending topics on Twitter at the time of this post is #whywebrokeup…
I don't know why everyone insists on making their private lives public. I'd like to think that anyone tweeting on this subject is doing it strictly for entertainment purposes, and that there's no real truth to the words.
Assuming that's the case, here are some of the more amusing reasons for why they broke up:
You wouldn't buy me an iPhone
You cheated with my dad
You couldn't double ya money and make it stack
You're a Mets fan
Because you're 30 and you still live with your mom
U sweat while the ac is on
Because you showed your goods to Twitter
You've never seen an episode of Charles in Charge
Additionally, there seems to be a lot of Justin Bieber references, whatever that's about.
On a side note, depending on the time of day and popularity of a certain hashtag, a tweet may not last more than a few minutes on the front page. That being said, the type of reading can change from innocent to offensive pretty quickly. You have been forewarned!