Oneupweb : The Internet Passes Down Memories to Future Generations
My first adventure into Holiday Land shopping this year is a grim tale. It began this past Saturday morning and I was in the middle of a clothing store with the familiar, cheery voice of Andy Williams proclaiming "It's the Most Wonderful Time of the Year." But not this year, this year I stood numb and lost, hating Christmas music for the first time ever, because I was looking for something to wear to my grandmother's funeral.
It all happened so fast. Barely a month ago Grandma was the same warm, loving person she had always been with her dry humor and her never-ending array of baked treats. Now I was standing in her closet, smelling her favorite coat with the knowledge she would never wear it to another Christmas Eve Mass.
As I rooted through pictures to put up at the memorial I learned things about her I never knew, and had questions that would never be answered. When did she cuddle up to a pig that wasn't going into the oven on Easter? What color were the dresses of the bridesmaids that surrounded her on her wedding day? And what was the name of the tiny Scottie dog in the pictures of her as a little girl?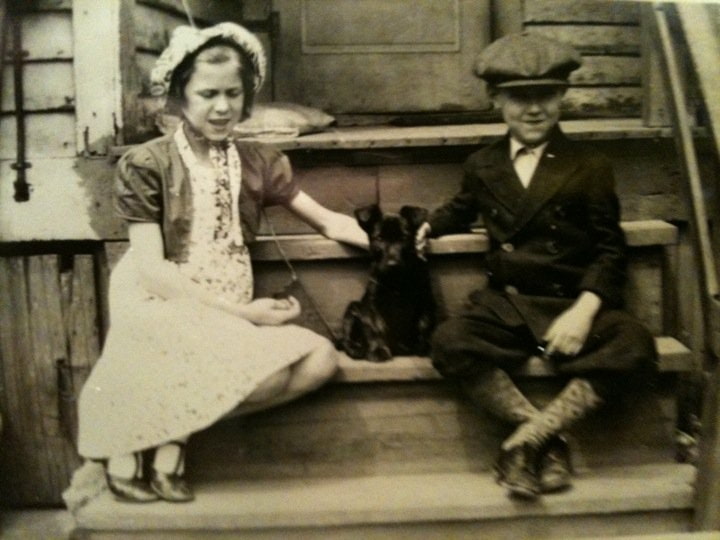 She often said she didn't understand the things most people in my generation take for granted. Grandma marveled at how we could message friends and capture pictures on handheld phones. She was also astonished you could talk to people on screen, live, who were far away in Germany. Unheard of! The world we live in today is not the same as the one the girl in the string bonnet knew.
When I pass my grandchildren will be able to pull my life off the internet with pictures tagging important people and comments exposing details of every captured memory. There will be so many more clues left by us about daily life than were left by preceding generations. And when we go, the stories we forget to tell may be only a click away rather than lost in yellowed newspapers crushed in an old book.
Our ways of memorializing loved ones has even been altered in ways inconceivable just a few decades ago. The funeral home that helped my family with this difficult time has a website dedicating pages to departed loved ones. These pages house banner ads of services one visiting such a site might be likely to make use of, like local flower shops and accommodations in the area for those in from out of town. There were people unable to attend the memorial who left heartfelt wishes on Grandma's page and those who knew where to go only because they had searched on the web before leaving the house. We were even able to give the Funeral Director additional information for the services via the website so we wouldn't have to be onsite more than necessary. Even in a time of heartbreak, I thank modern search technologies for the ability to streamline a difficult and disorienting situation.
So now Thanksgiving is over, and though Christmas is just around the corner I know she is still here with us somehow and we will make the best of the happy memories we shared with her. So hold your loved ones tight this holiday season and remember that the things you will miss most one day are the people.