Oneupweb : The New Madden Experience—Facebook Style
Are you ready for some FOOTBALL? (You can't tell with the way I typed it, but that was in my Hank Williams Jr. voice). For this post though, I guess a more relevant question is, are you ready for some FACEBOOK football?
Last week Madden NFL Superstars made its debut on Facebook. This is the second social game from Electronic Arts since it acquired Playfish last year. I gotta say, I get a little twinkle in my eye when I think about this one.
I really don't get into social gaming too much. I've dabbled in FarmVille, Mafia Wars and a few others, but for the most part I tend to stick to traditional consoles. When it comes to Madden NFL, I've been a fan for almost two decades—since way back in the day when the best strategy was to pick the team with the fastest running back and rush for 600 yards per game. So when I heard Madden was coming to Facebook, I got AMPED UP!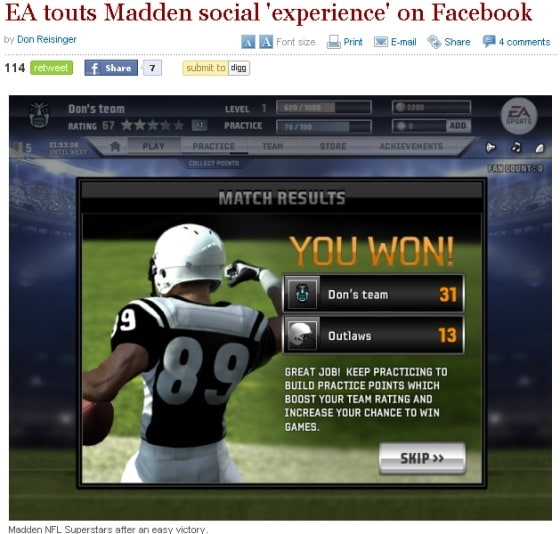 I got curious, wondering how the Madden experience would be translated to Facebook. And if you're wondering the same thing, here it is:
Forget the controllers and the 32 NFL teams. With Madden NFL Superstars, you choose your team from among 1500+ active players. But you can't pick the best talent out of the gate. You have to first earn points by beating your friends, and the more points you earn (or buy with Playfish's virtual currency), the better the talent you can acquire. And as with most social games, it's the points scheme that's really going to hook you.
When comparing the traditional Madden experience, the great thing about this game is that it's going to put you at the helm of an NFL franchise—you pick your team, stadium, colors, logo and more. And you build it all from the ground up. Personally, I can't wait to earn enough points to get Tom Brady…just so I can cut him.
Overall, I think Electronic Arts has created a new Madden experience that can appeal to both the traditional Madden fans, like myself, as well as to the social gamers. What do you think? Do you think Madden NFL Superstars will be a hit?