Oneupweb : The Search Alliance—What's on Deck?
With the integration of Microsoft and Yahoo! looming on the horizon, my inbox has been bombarded with a weekly, if not daily, salvo of emails detailing the expected changes. Though there are still several unanswered questions that we Pay-Per-Click Search managers yearn to get answered, there have been some interesting details emerging. Let's focus on some of the changes in store for PPC.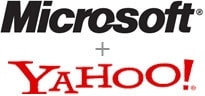 As most everyone has heard by now, Microsoft will be providing the results for both paid search and organic results in Bing & Yahoo!. These results will have the appearance that they are separate, but all results will come from Microsoft using the AdCenter platform.
That being said, once the Search Alliance has been implemented, AdCenter will not allow advertisers to pick and choose which engine they want their ads to appear. This means that ads will be served across the entire Search Alliance, in both Yahoo! and Bing results—not just one or the other.
This begs the question of whether or not advertisers will still have the ability to block the Yahoo! Search Partner network. The answer…maybe.
Here is the short answer from a Search Alliance Forum:
"After the transition, your ads can appear in search results on both Yahoo! and Microsoft sites, as well as all of Yahoo!'s and Microsoft's distribution partner sites, such as Facebook and CNBC. Yahoo! and Microsoft are in the process of determining the controls that advertisers will have to manage where their ads will be shown in the unified search marketplace."
It also appears that details surrounding domain blocking remain up in the air. According to the Search Alliance, domain blocking will not be available for Sponsored Search immediately, but will be "Coming Soon". Domain blocking is currently limited to content advertising and will only apply to partner sites.
Here are a few other interesting changes spawning from the Alliance:
AdCenter will use the same match types as Google (exact, phrase and broad). This is a welcomed change from my perspective—we can finally say good-bye to the Yahoo! standard and advanced match types! This also means that singular, plural and commonly misspelled keywords will be treated as separate keywords, and not lumped together under one singular version.
Ads will adopt the AdCenter copy character standards—headlines will consist of 25 characters and 70 characters will be available in the body. This transition is a big change for the watchful eye. Also, Yahoo! ads that are being migrated to AdCenter and do not conform to this new standard will be truncated or set to inactive.
And just in case you're curious, and have a remaining balance left in your Yahoo! account—this balance can be transferred to a new or existing adCenter account, or ultimately refunded.
The changes outlined above are by no means all inclusive, and may change as details regarding the Search Alliance are unveiled. Better yet, contact an expert like Oneupweb. Growing businesses is what we do, and we would love to help you reach your goals.