Oneupweb : The Secret Ingredient for a Successful Facebook Sweepstakes
One of the many social media services Oneupweb provides for our clients involves creating and facilitating a Facebook promotion. This could be anything from a video contest to a group discount. With the knowledge (courtesy of Jupiter Research) that 80% of all internet users have entered at least one sweepstakes or contest within the past year, and 50% enter them at least once a month, it's safe to say that this is the kind of Facebook activity customers and clients are looking for from brands.
Then, if you consider a Facebook fan is worth $136.38, and brands that run contests have twice as many fans as those that don't, it's clear that Facebook promotions pay off. One of the hottest promotions right now is a simple sweepstakes.
Not much about the sweepstakes has changed over the years, except that now you can enter through an app on Facebook rather than through the mail. And usually, it's pretty easy to enter. You fill in the required information, such as your name and email address, and that's it! There's no complicated software involved, no essays to write or pictures to shoot and upload. Below is an example: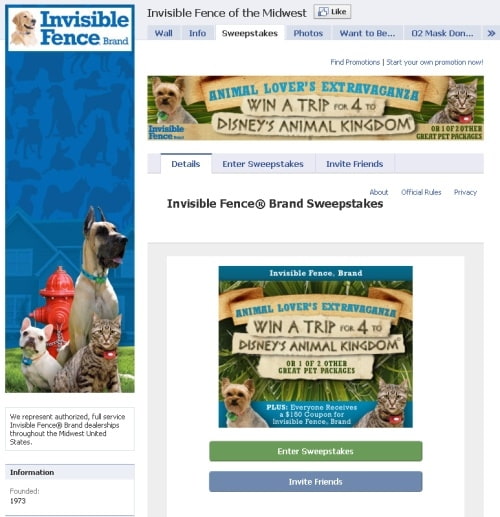 A Facebook sweepstakes has a relatively low barrier to entry, and it can produce some big results—if you market it correctly.
"If you build it, they will come" has really never been the case when it came to anything other than ghosts in a corn field in Iowa. You don't invest the money to open a brand new restaurant and just hope people will show up. Instead, you market it with television ads, radio commercials, flyers, a PR effort and more. The same is true when you release a new product (the iPhone 4 for example). And it's the same with any Facebook promotion. You NEED to market it to draw people in.
Think SEO, Google PPC ads, Facebook PPC ads, information on your website, landing pages, banner ads and a lot more. Because the more integrated you get, the better the results. Sure, it can seem like a lot to handle, but it's absolutely imperative to make your Facebook promotion pay off. (Shameless self-promotion: Partnering with a digital marketing agency like Oneupweb will not only help you juggle all the parts and pieces, but understand the strategy behind it.)
Don't be a brand that thinks Facebook doesn't work because you've tried it, but didn't market it. There are brands out there, right now, who are seeing amazing success with Facebook promotions—and the secret ingredient is digital marketing.