Oneupweb : The Skinny On Facebook Instant Personalization
Since April of last year, Facebook has quietly been rolling out a new feature called Instant Personalization. As is always the case when Facebook rolls out a new product or feature, there are questions and concerns about privacy. So today, I thought I'd give you the skinny on what Facebook Instant Personalization is, and how you can disable it if you choose to.
The Scoop
Facebook Instant Personalization does just what it sounds like—it personalizes a website for you. Facebook describes it by saying, "See your friends' reviews first when you search for a movie to watch. Hear your favorite songs automatically when you visit a music site. Experience a Web tailored to you and your friends."
An example of Facebook Instant Personalization in action is the site Rotten Tomatoes. When you are logged-in to Facebook and visit Rotten Tomatoes, you will see any reviews left by your Facebook friends. The idea is that you are more likely to care what your friends do and don't like when it comes to movies, and take their suggestions. For instance, I have a friend who has terrible taste in movies. If she were to leave a review about how great a movie is, odds are pretty high that I'm not going to like it.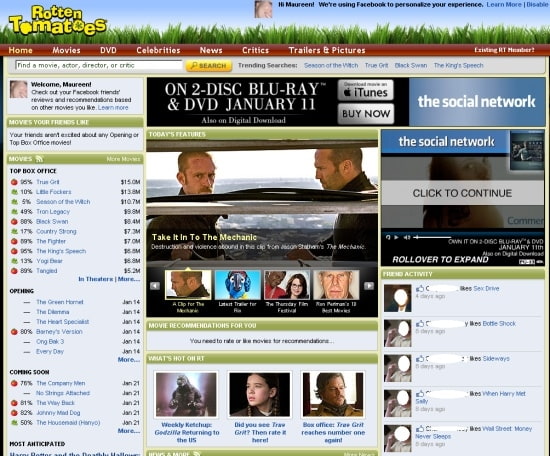 Above is a screenshot of what I saw when I logged-in to Facebook and then opened an additional tab to visit Rotten Tomatoes. At the top of the page was a greeting letting me know the site was using Facebook to personalize my experience, with options to Learn More and Disable. There was also another notice in the left-hand sidebar. On the right were recent "recommendations" from friends in terms of who clicked on a Facebook Like Button for a particular movie. You can see one of my friends likes Bottle Shock, Sideways and When Harry Met Sally.
How It Works
To enable Facebook Instant Personalization, you must be logged-in to Facebook and visit one of Facebook's partner sites. These include:
Rotten Tomatoes
Bing
TripAdvisor
Clicker
Docs.com
Pandora
Yelp
Scribd
Facebook can only pull your public information. According to Facebook, this includes "your name, profile picture, gender, networks, and other information shared with everyone." These are all things you control in your Facebook privacy settings. Mark Zuckerberg is quoted in a recent InsideFacebook.com article saying, "Anyone can go to your profile and view your public information, why shouldn't applications be able to do that to give you an awesome experience?" So the key here is to make sure you have your privacy settings updated to what you are most comfortable with.
When you are logged-in to Facebook and first arrive on one of Facebook's partnering sites, you will see a notification and a way to turn off Instant Personalization in one-click.
Your Facebook information is only used to create a personalized experience for you, and is not shared with advertisers or used for any other purposes.
How To Turn It Off
We already mentioned that the first time you are logged-in to Facebook and visit one of the sites listed above, you will receive a notification and a prompt to turn off Instant Personalization in one-click. You can also follow this string to automatically disable this feature:
Account >Privacy Settings > Apps and Websites >Instant Personalization > Edit Settings, and un-check "Enable"
This means that none of Facebook's partner sites will be able to access any information about you—including information on your profile that you have made available to everyone.
What do you think of Facebook Instant Personalizaiton? Is it useful, or creepy? Let me know in the comments below.