Oneupweb : The United States of Social Networking

Matt likes this
Everybody and their mothers…. and their grandmothers are on Facebook nowadays. To put it in perspective, if Facebook were a country it would be the 3rd largest in the world, having a population of roughly 500 million people. We can look to the world's youngest billionaire Mark Zuckerberg to thank for this, or should we be thanking somebody else?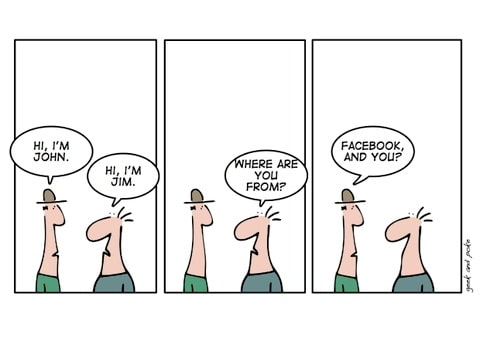 Last weekend, my wife and I decided to head out to the movie theatre and check out the much talked about generational flick The Social Network. All I knew going into the theatre was that the movie was about Facebook and it offered an inside look into the world of the notoriously brash programmer Mark Zuckerberg (played by actor Jesse Eisenberg). To my delight this movie delivered a generous punch of quick-fire cynical humor paired with layers of dysfunctional functionality. You will also get a kick out of the highly competitive Harvard elite Winklevoss twins (played by Armie Hammer in a dual role), who offer additional comic relief to the film. I'll also admit that Justin Timberlake plays a pretty good role as Sean Parker, the shiesty mannered entrepreneur who's most famously known for being the founder of Napster.
I do not want to give too much of the film away, but it is hard to imagine that all of this started from the attention gained from a "hot or not" site called Facemash, which went viral overnight and ended up crashing Harvard's servers. From that point, the domino-effect of events following resulted in the multi-billion dollar corporation we now know as Facebook. (Although, I wish they kept the original name, The Facebook.)
I can remember back in college when I first heard about Facebook. My first reaction was that it sounded just like MySpace and many other social networking sites of the day. I was admittedly opposed to the idea of putting details of my day-to-day on the internet for all to read. Reluctantly, I later ended up joining and was instantly sucked into the world of Facebooking. (Not in a crazy stalker kind of way!)
I highly recommend seeing The Social Network. It offers an insight on an industry we thrive within in marketing. It will be interesting to see how Facebook will evolve going forward, especially after seeing how much it has transformed since its inception.