Oneupweb : Thought Leadership
Thought leadership pivots on earning trust and credibility. Thought leaders are recognized for offering something different, whether that's information, insight or ideas. According to marketing veteran, Elise Bauer, a distinguishing characteristic of a thought leader is recognition from the outside world that the company deeply understands its business, the needs of its customers and the broader industry in which it operates.
Thought leaders share a mindset—they love what they do. They have the drive to teach, take risks with messaging, and never stop working, connecting and communicating. Most important, thought leadership is earned, not acquired. It's a way of being.
Benefits of thought leadership will be apparent. Customers/businesses will be invested in you before they buy from you. They'll put themselves farther into the sales cycle, diminishing price resistance.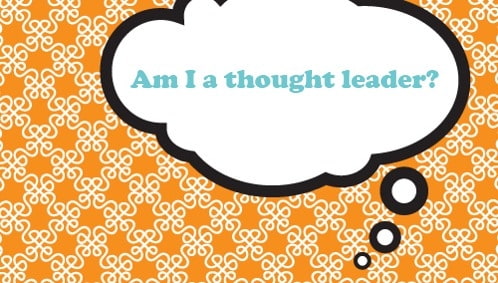 Is your company a thought leader? You might find that to be a hard question to answer. Being a thought leader isn't always something you can say about yourself; it's really what others say about you. To rephrase, does your company strive to be a thought leader? In other words, do you share your collective knowledge through blogs, social media, newsletters, whitepapers and webinars? Have you created a publication specific to your industry and business? Do the volunteered articles on strategy and industry trends generate a great deal of press coverage? Does your passion to teach and succeed translate into case studies that speak for themselves?
If you answered yes to the questions above, I think you can be confident to say you strive to be a thought leader.