Oneupweb : 3 Creative Uses of Facebook's Like Button
It's been three weeks since Facebook announced the launch of its Open Graph protocol, designed to combine social web activities with the rest of the web.
In that short span of time, more than 100,000 websites have added Facebook's Social Plugins, including the Open Graph's one-click-power-switch: the Facebook Like Button.
It's easy to see the value of adding the Like Button to your website content. Whenever someone clicks on the Like Button, a link to your content is added to that person's Facebook Wall and News Feed where all their friends can see it and click through to your content.
But today, let's look at a few of the more creative ways the Like Button is being used to share content:
Trip Advisor Top 10 Lists
Ready to plan a trip this summer? Take a look at Trip Advisor's Top 10 Beach & Sun Destinations in the World.
Trip Advisor has added Facebook's Like Button to each destination in this top 10 list, which provides another layer of insight into the popularity of each destination.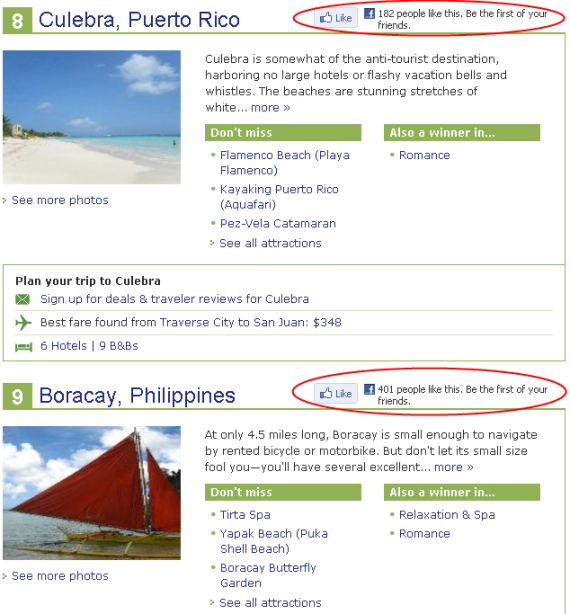 If any of your Facebook friends have been lucky enough to visit one of these tropical paradises, you'll likely learn who's vacationed via these Like Buttons.
My 2¢: How about ranking the destinations in this top 10 list by the most Facebook Likes? More Trip Advisor/Facebook users would be inspired to Like their favorite beach in an effort to see it at the top of the list.
Thumbs Up for New Threadless Tees
Looking for some new threads to show off your trendy taste in tees? Threadless, the "on-going t-shirt design competition," features t-shirts for all ages that have been designed by and chosen for printing by the Threadless community.
Threadless showcases new tee designs on the landing tab of its Facebook Page. Now visitors can "vote" for the new t-shirt design they like best via the Like Button.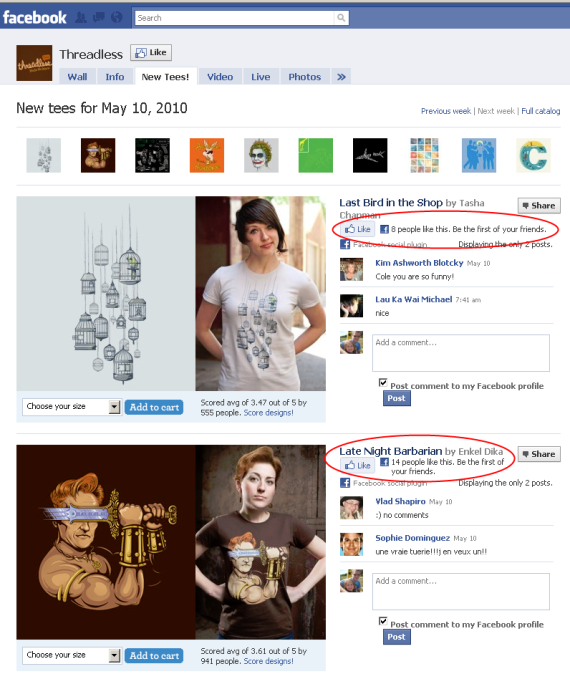 After I click the Like Button for my favorite of the bunch (Late Night Barbarian, of course!), the link posted to my Facebook Wall points to the product page for that specific t-shirt on the Threadless.com site.

A source=facebook.com tracking string in the link allows Threadless to tally their click-throughs from Facebook.
My 2¢: This is the first time I've seen the Like Button used on a Facebook Page. Kudos to Threadless for bringing it full circle.
Like the Locals on LivingSocial
LivingSocial makes it simple to find the best daily deals in metro areas throughout the United States. Combine this info with the sharing power of Facebook's Open Graph and you don't have to go looking for deals, they'll find you.
According to Facebook: "LivingSocial users can like different neighborhoods to subscribe and receive updates in their news feed."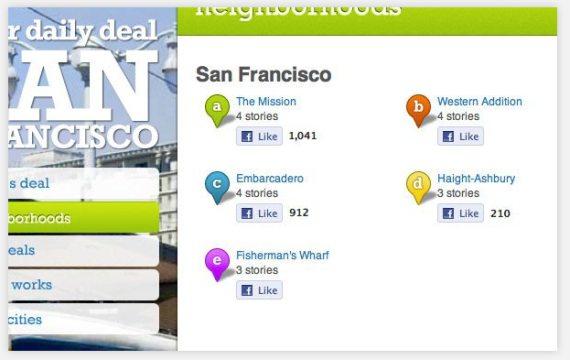 My 2¢: Unfortunately, the greater Traverse City, Michigan, metro area has yet to make the LivingSocial list. But as soon as it does, I'll be sure to Like the neighborhoods I tend to frequent with cash in fist.
Have you seen other creative uses of Facebook's Like Button? Do you have plans for an innovative way to inspire your audience to share your content via the Like Button? Leave a comment and let us know.