Oneupweb : Tips for Justifying a Web Design Investment and Gaining Buy-In from Management
Well, Shamrockers…hopefully the green beer haze has worn off.
Spring is officially here. It's time to pack away winter gear and give the house a good scour. For many marketers, the freshness of spring also prompts a brutally honest look at the face of their brand—the website.
Accepting and acknowledging the fact that it's time for a redesign is the first step. And it's a big one. Followed by many steps of equal challenge, the process culminates at what is perhaps the most difficult step (no matter how obvious the need for a new design might be): justifying the investment and gaining approval from management.
I heard you shutter. And I can relate. In the last four years, I've been in that very position as a marketer five times (clearly it isn't just spring that inspires brand introspection for me).
It sucks. And I don't use that word lightly. Or often.
I certainly haven't mastered the art of justifying such a speculative, grey investment—but I have some tips that will certainly help.
1. Tackle design from a conversion perspective.
Regardless of whether you actually sell your products and services online, your website exists to prompt some sort of visitor conversion. Whether it's an actual checkout, a newsletter subscription or a form fill—there are conversions happening on your site. And those points of  conversion are key to the health of your business. A healthy bottom line is always an easy sell—so when you're pitching a design investment, work backwards. Prove, with numbers, that it will be more cost effective to convert more of your existing website traffic with a new site design than it would be to invest in driving more traffic to your existing site.
Here's an example of how that projection works:
Assume you have a $50,000 web design proposal to consider for an eCommerce site where the average sale is $68.

To calculate this, you will need to know the conversion rate for your site (what percentage of visitors convert to clients or sales leads), your average sale and estimated traffic projections.
2. Make sure your design proposal addresses usability and user experience.
Both affect the conversion rate of your site directly, which in turn, directly impacts profitability. Usability and user-experience (you may see it called UX design) don't hinge on color theory and font selection, instead they should revolve around things like cross-browser compatibility, CMSs, mobile compatibility, site architecture etc.
3. Go for the objections while you have face time with your decision makers.
Silence is golden, unless you're trying to pitch something. Unless your audience is silent because they are in awe of your shear brilliance (be honest with yourself when assessing this situation)…you need to get them talking. Don't be afraid of their objections to what you're presenting—instead—work on pulling them out while you're face-to-face. That way, you're able to answer questions and concerns.
Last November, I teamed up with our Director of Operations, Tim Kauffold and we gave a presentation on Selling Search Marketing, Social Media and Web Design to the C-Suite. If you're finding yourself in that situation, give it a listen if you have time. Tim and I will be teaming up again in April for a live strategy session on website design, titled:  Is Your Website Driving Sales, Or Driving Them Away? The session is absolutely FREE and will show you how to take a realistic approach to evaluating the success and short comings of your site design. If you're considering a redesign, this session will give you some of the takeaways you need to make decisions that will positively impact profitability.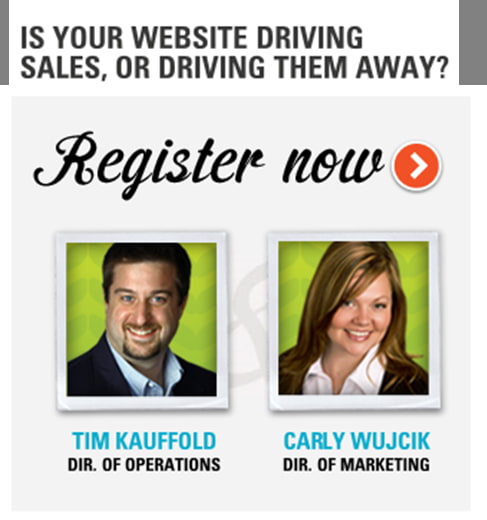 And that, is as satisfying as a home free of dust-bunnies. Happy spring!