Oneupweb to Host Live Strategy Session—No Caffeine Required
Yawn. Daydream. Take a sip of coffee. Study coffee mug. Notice lipstick marks on rim. You don't wear lipstick. Wonder who had dish duty at the company yesterday? Make a note to get even with them. Brainstorm ways to do this. Return gaze to computer screen. Oh, crap. Realize that you just missed half of the webinar that's going on in front you.
Sound familiar?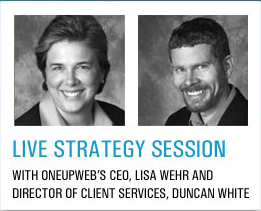 Well, in an effort to combat the monotonous, humdrum standard routine of the webinar, Oneupweb has totally abandoned this standard practice. Why? Because let's face it, webinars are boring. So after tossing this idea out the window, Oneupweb came up with an idea to host the first-of-its-kind live strategy session.
You see, Oneupweb believes that the more hands on the approach, the better. After all, showing is much better than telling, right? So it's time to roll up your sleeves, grab a (clean) cup of coffee, and join us for this live strategy session taking place on December 2, 2009, at 2pm EST.
Oneupweb Founder and CEO Lisa Wehr and Director of Client Services, Duncan White, will be helping attendees learn cutting-edge marketing tactics firsthand. This session is geared at helping attendees discover the importance of balancing brand efforts with demand generation initiatives in 2010, learning what Relentless Digital Marketing actually is, and how it can transform their business.
Most importantly, after a short presentation, Wehr and White will help one lucky attendee plot a winning solution to their greatest marketing challenge.
Sound too good to be true? It's not. And we'll prove it. Register for this FREE event today.
I'll leave you with one final challenge. Make that cup of coffee you bring with you to this event decaf—we guarantee you'll still be awake and engaged at the end. No caffeine required.