Oneupweb : Today's Up-To-The-Minute News
I recently read an article stating that the internet has surpassed television as the main news source for young adults. I was reminded of that today when a terrible tragedy struck my hometown.
I was at my desk, trying to wrap up some reports for a social client before our 3:15pm break. I was running a little late for break, and heard some people who were gathered in the common area outside my office discussing a double shooting that had just occurred in our hometown. We do not live in New York, Chicago or Detroit, and to us a double shooting in our hometown is not only shocking, it's almost unheard of.
So what's the first thing I did? You got it—I checked Twitter using the hashtags #NWMI and #TVC. Sure enough, there were several tweets about the shooting. One of the last tweets I saw was from a local news company reporting the same details I had seen in earlier posts, but I understood for them to publish a tweet about it, it had to be "official".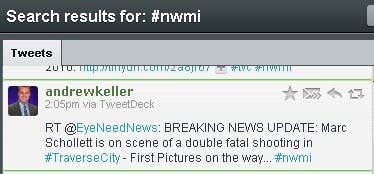 By the time I made it to break, most people had their smart phones out, reading about the shooting in their friend's status updates on Facebook. And here's where things get interesting. Almost everyone had a different story—most were wrong. And that got me thinking. If most young adults (including me) look to the internet as their source of news, how do we know when we've got the real facts? And how or can we hold someone reliable for "false" reporting?
What do you think about this issue? I'd love to hear your thoughts!