Oneupweb : Top 12 World Cup Jersey Designs, Past and Present
Due to World Cup fever, I decided to write a post on something World Cup related. I thought I'd compare past posters or logos, but discovered that countless magazines, websites & blogs beat me to it. Therefore, I decided to write about my favorite world cup jersey's, past and present.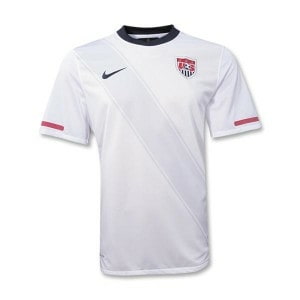 While the US has had some really bad uniforms in the past, I love the US's current jersey. It's a sophisticated design that seems to demand respect and is based on one of my all time favorite US uniforms, the 1950 World Cup jersey. It's clean, simple and that red diagonal stripe across the chest says victory! This is the jersey the US wore when they beat England, a match that some still refer to as the greatest upset in soccer history.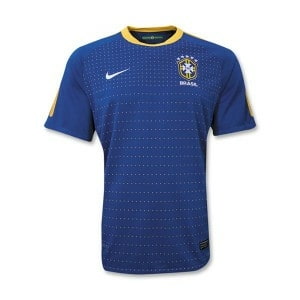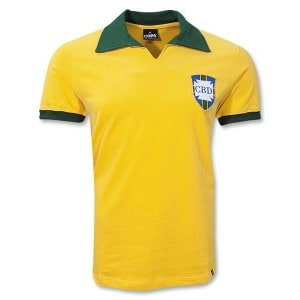 Even though Nike has been notorious for ruining a good World Cup jersey in the past, they get an A+ with this design. I love simplicity and attention to detail, and this shirt has it all! The simple dot pattern, yellow collar and stripe on the arms is all this jersey needs to make it a winner. Brazil's 1962 yellow and green jersey says two things to me "soccer" and "Pele". You can't go wrong with this classic!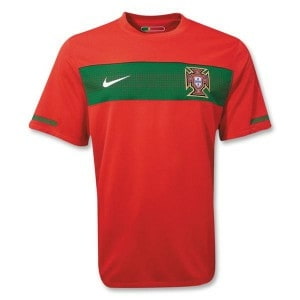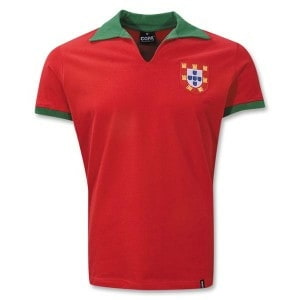 I normally have a hard time with teams that use contrasting colors. Especially red and green, but Portugal's 2010 jersey doesn't scream Christmas, but Cristiano—Cristiano Ronaldo that is! Their 1972 jersey on the other-hand does look a little like an elf costume, especially with that green collar, but I still dig it.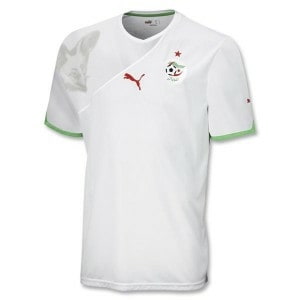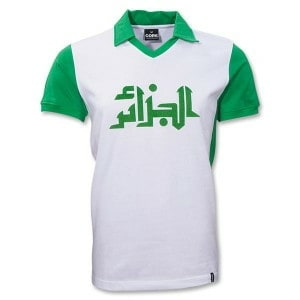 I love Algeria, not only because they recently lost a great game against the US with less than 4 minutes left, but they also seem to know good design. What I think I like about this 2010 jersey, is not only the Desert Fox on the right shoulder, but the simple and clean look that Puma portrays here. Some may think this is a bland shirt and would say their green away jersey is better, but in design—less is definitely more. On their 1982 jersey, the green sleeves and stripe down the left side are nice touches, but the graphic on the front is what makes this shirt. The graphic, which I believe says Algeria in Arabic, gives the shirt movement and makes this jersey very interesting and exciting. Even though I like their current jersey, I think they need to bring this design back in 2014.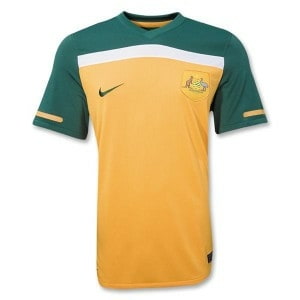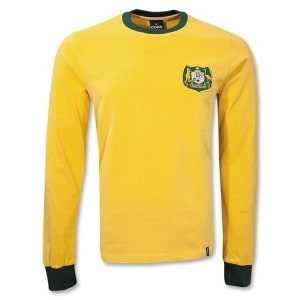 Australia's current jersey is an all around solid soccer design that echo's rugby. Some say it's too boxy, but the yellow horizontal stripe and green upper represents strength and stability. Even though they're out of the Cup, they went out with a bang—overpowering Serbia 2-1. Their 1974 jersey is nothing special, but this was the first year the Socceroos made into the World Cup finals, which makes this shirt a whole lot prettier to an Aussie.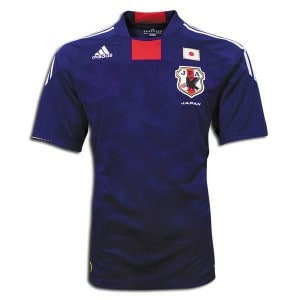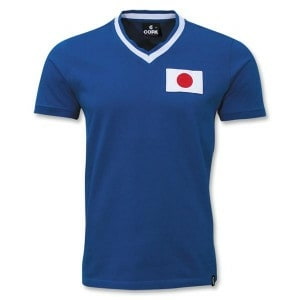 I think that Japan's 2010 home jersey is brilliant. It's a classic soccer design, but if you look closely you can see the dark blue splotches are actually feathers printed on the jersey. I think the feathers could be a little more subtle, but I think it's an interesting idea. I know a lot of people have been commenting about the red square on Japan's neckline, stating that it looks like a catholic priest's collar, which is pretty funny considering Japan is predominately Buddhist. Yet, I think the simple red square makes a huge statement and stands out from the rest of the blue jerseys. Japan's 1982 jersey looks a bit like an old polyester baseball shirt, but I like the minimalist approach. I like how the flag on the left side of the chest stands out and becomes part of the design. It may be basic, but this Blue Samurai jersey is a true classic.