Oneupweb : Touch Screen Turntables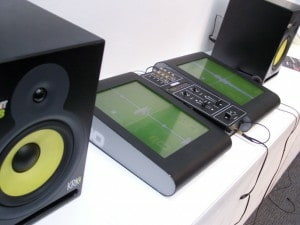 I've always thought it was strange that techno music, a genre based on progressive technology, is still using dated equipment like turntables. Yet, as a collector of vinyl records and fan of the record player, I love how analog recordings have survived and are still being used today.
Currently most DJs use: a CD turntable like the Pioneer CDJ-1000, which manipulates a CD much like a vinyl record; Stanton's Final Skratch, which allows you to use your laptop's library of mp3s, while playing special vinyl records pressed with a digital timecode; or the more traditional, direct drive analog  turntables.
Now a new possible contender has surfaced—the Attigo TT touch screen turntable. A DJ can scratch, loop and sample wave forms just like a record, but they can also access a computer screen, play list, and more directly from the touch screen itself. The possibilities for this type of technology are almost limitless and it seems the logical way to go, thanks to the introduction of Apple's iPad. The Attigo TT is only a prototype and has some flexibility issues, but as touch screen technology continues to advance, I think we'll see a major electronics company pick this idea up and run with it.