Oneupweb : Traverse City Film Festival—Just Great Films!
Who doesn't love movies? I know I do, and I can still remember sneaking in to see "Point Break" after telling my mom we were seeing "Beauty and the Beast" (hi mom, love you!). And if you love movies like we here at Oneupweb do, then this week is a great time to visit Traverse City. It's the annual Traverse City Film Festival!

On its site, the Traverse City Film Festival describes itself:
"The Traverse City Film Festival is a charitable and educational non-profit organization that holds an annual event in one of the most beautiful areas of the country—Traverse City, Michigan. The festival is committed to showing "Just Great Movies" and helping to save one of America's few indigenous art forms—the cinema."
There are all kinds of interesting movies playing that you can still buy tickets to. Take a look on the Traverse City Film Festival's Schedule page. Below is an example of one of the higher rated films showing this year at the film festival.
So if you're in the area or want to visit, now is a great time. And if you live in or near Traverse City, join Oneupweb and the hundreds around the area in volunteering at The State Theater.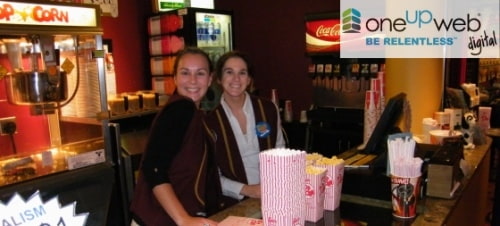 See you at the movies!