Oneupweb : Twitter Madness—Picking Up On The Social Heat
I'm not really the gambling type. And I'm definitely not a sports nut. But inevitably, the delirium of March Madness gets the best of us. Dollars are exchanged for brackets (including an unofficial office bracket), and the strategizing begins. Really, how complicated can it be?
Well, some people know how to make it very complicated—developing complex systems and methodologies for predicting the outcomes of each match-up. But how does percentage of wins divided by guard experience plus my gut feeling add up to Baylor over Villanova in the Sweet 16? Argh!
Okay, so I don't follow college basketball all that closely, but I still have fun participating. And it would be nice to think I had a shot at winning the office pool.
So I needed another strategy, something other than copying my husband's bracket. I remember reading last month about how a communications agency predicted "The Hurt Locker's" Oscar win—an upset against the blockbuster "Avatar"—by analyzing Twitter activity. It could work for basketball, too. So I did a quick search on Twitter for "March Madness." As it turns out, there are a lot of people tweeting about their picks.
It's easy to search for a topic on twitter using hashtags. I can easily get a handle on all March Madness chatter by simply searching for the hashtag #marchmadness. But most twitter search engines will be able to find tweets, including the keyword, even without the hashtag.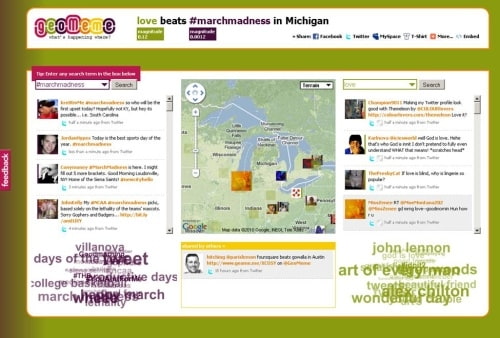 So after scouring Twitter I now have what I think is a "well-informed" bracket. But I also learned a couple other things about Twitter.
1) Hashtags are very useful for sorting the firehose of information out there—and by using location specific hashtags, like #NWMI (for Northwest Michigan), you can target regions with your tweets. This means that even those not following you may still see your tweets if they are following that hashtag.
2) Although March Madness is a hot topic, Justin Bieber is still hotter. According to TweetVolume, there were eight times as many tweets about Justin in the week leading up to March Madness.
So even though it isn't recognized as a true "bracketology" method, it was still a fun exercise in seeing how trends are picked up on Twitter. And after all the research, I'm going with Kansas. What are your March Madness picks?