Oneupweb : Understanding Average Cost-per-Click as a Key Performance Metric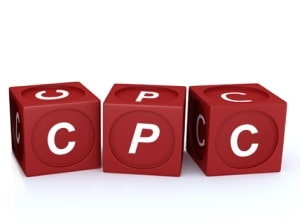 The digital marketing empire provides an immense amount of data to understand and analyze. As a result, marketers have a number of key performance metrics specific to the business, vertical and industry. While this transparency is incomparable to other offline channels, it also creates a narrow approach to campaign management.
My colleague, Vern, points out in a recent post that "we've become slaves to micro-managing ROI at the keyword level." While this methodology can create impressive ROI figures, how does it translate into business growth?
My advice: focus on segmenting your keywords into three keyword sets; keywords that perform above performance goals, keywords that perform at goals and keywords that perform below goals but are still converting. The key is to view these three segments as working together to maximize sales, leads, downloads, etc. Yes, you'll have an occasional keyword that you can pause.
Next, determine the average cost-per-click for each keyword set. Average cost-per-click is at the foundation of many digital marketing platforms and can translate into more than what it costs to drive a visitor to your website. Here's an example to illustrate.
Advertiser Goal
400% ROI
Keyword Segment Performance by Month
Above Goal – ROI – 700%; Average CPC – $0.38; Clicks – 13,157; Cost – $5,000; Sales – $35,000
At Goal – ROI – 400%; Average CPC – $0.39; Clicks – 25,641; Cost – $10,000; Sales – $40,000
Below Goal – ROI – 300%; Average CPC – $0.44; Clicks – 11,363; Cost – $5,000; Sales – $15,000
Account level – ROI – 450%; Clicks – 50,161; Conversions – 1,325; Conversion Rate – 2.65%
Now let's say that I've decided that a $0.04 average CPC decrease is my target for next month. A $0.04 decrease certainly seems reasonable across a month. First question: all key metrics the same, what impact could this decrease have on overall performance?
Traffic – 14% increase in click volume (($20,000/$0.35) – 50,161 clicks/50,161clicks)
Increase in Sales – $12, 580 ((click increase 6,982 x conversion rate 0.0265) =185 x $68 avg. sale)
ROI – 513%
While it's easy for anyone to make up scenarios, the value is in knowing how various average CPC decreases can impact your top-level performance metrics. The challenge is identifying which keyword segment(s) to target for a CPC decrease.
Average CPC has even more weight as monthly click volume goes up. Consider large scale advertisers who average 175,000 clicks per month. What does a $0.04 decrease in average CPC translate into? If you need some help with that one, give us a shout.