Oneupweb : Update on Facebook Places
I recently wrote a post about Facebook places, the new check-in option available to iPhone users. At that time this new feature was not available in my area. I'm pleased to say that is no longer the case, as you can see below. Three minutes prior to posting this blog, I checked into Oneupweb.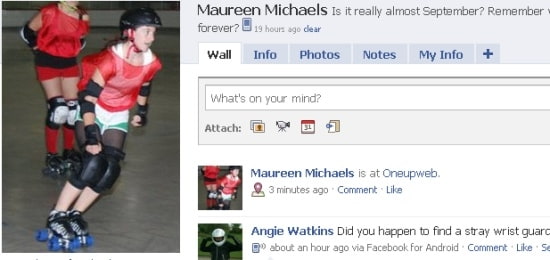 My first impression of Facebook Places is that it is actually pretty handy. Say you think you have a roller derby meeting, but you get to the assigned meeting spot a little early and decide to quickly check your Facebook. Then, you notice one of your teammates checks-in to another building all the way across town. Odds are that you don't have a meeting, even if you didn't get the phone call from the assigned phone tree (or bothered to sign up for the new forum where all announcements are made, but that's another story…). As you can probably guess, this happened to me last night. By seeing my teammate check-in elsewhere, it prompted me to call her to see if we did have a meeting (we did not). In the end, it saved me time.
But what do Facebook Places mean for business? Currently, if you are an official representative of a business, you can apply to "take ownership" of the Place where your business is located. To do so, you first have to locate your Place (here's Oneupweb's Place). Once you've done that, you just follow the link that says "Is this your business?" Facebook asks for serious documentation, meaning you must provide them with Articles of Certificate of Incorporation, Certificate of Formation, Local Business License, or Better Business Bureau Accreditation.
Once you claim your Place, you can advertise it using Facebook PPC ads. You can also manage your company's address, contact info., hours of business, profile pic, admins and more.
What do you think of Facebook Places? Will you be claiming your company's Place? I'd love to hear your thoughts.