Oneupweb : V-Day's Top Industries Give Love to Their Websites
Whether you enjoy Valentine's Day or not, one thing's certain, you can't avoid it. The holiday starts creeping up shortly after the new year, as stores embellish every aisle with pink and red, and every window display is adorned with hearts and cupids.
Just like storefronts, homepages act as the first impression for consumers. Let's take a look at three of the major industries of the holiday. Starting with candy, which according to National Geographic, Americans spend $1 billion in candy alone. And chocolate makes up 75% of that sweet billion! So how does Godiva.com entice the Valentine's Day consumer? Get a taste for yourself by scoping out the screenshot below: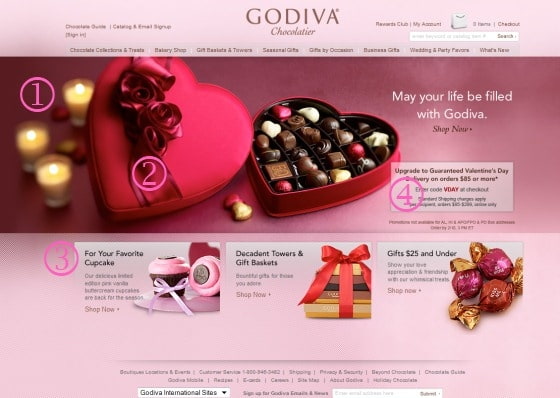 First of all, the homepage's pastel pink background screams Valentine's Day. I even fancy how Godiva.com sets some mood lighting with candles [refer to figure 1]. The classic heart-shaped box of chocolates [refer to figure 2] is placed in the center of the page, which channels visitors to shopping. This box of chocolates is not only nice to look at, it also is a well designed action path, allowing visitors to easily and quickly arrive to their desired destinations. And I enjoy their play on words in the caption [refer to figure 3] for their cupcakes: "For your favorite cupcake!" Godiva.com didn't miss a [heart] beat for helping their site visitors complete tasks in a timely manner, as they conveniently display the promo code [refer to figure 4] for free shipping and guaranteed Valentine's Day delivery.
Roses, another Valentine's Day staple (cliche gift, in my opinion) can be purchased on 1-800Flowers.com.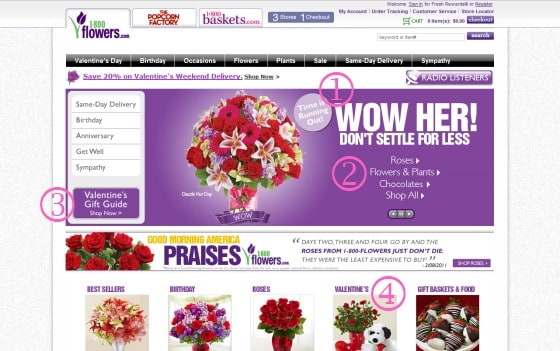 The first place my eyes go to is the message [refer to image 1] that screams "Wow her!" Personally, as I already stated, I'm a girl who doesn't dig flowers. And, wait, what about him? Well…according to SmartBrief, men spend twice as much as women do on Valentine's Day. And get this…according to Internet Retailer, more men than women shop online for Valentine's Day. This homepage offers a convenient one-stop-shop with its convenient list of assorted products [refer to figure 2], which even includes chocolates! Oh, and how kind, 1-800Flowers.com even has a Valentine's gift guide [refer to figure 3] for individuals who are completely clueless on what to get their special valentines. This homepage is all about action oriented design, for example: it displays an image of a floral arrangement and stuffed animal [refer to figure 4] that indicates a lovey dovey (and yes, very cheesy) gift for the holiday and even has a one word caption of "Valentine's" to help the visitor recognize that the image acts as an action path for quick navigation to Valentine's gifts.
We've touched on the deliciousness and aromas of the holiday, next let's take a looksy at the sparkles. Jewelry is certainly on some peoples' wish list, and Tiffany & Co. knows exactly how to meet the needs of those individuals.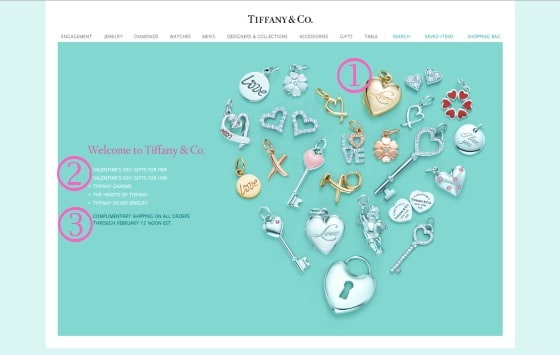 Tiffany.com has a festive homepage design with their key and heart shaped jewelry, as well as their "xo" and "love" charms, cleverly arranged in a large heart [refer to figure 1]. The site makes Valentine's Day shopping easy and fair (unlike 1-800Flowers.com) as it lists Valentine's Day gifts for her and him [refer to figure 2]. Tiffany's also provides a nice incentive for Valentine's shoppers as they offer and display complimentary shipping [refer to image 3] on all orders that are placed before Saturday.
Looking at these three companies and the fun ways they incorporate Valentine's Day, it's obvious they put hard work and, well, yeah, love into their designs. Oneupweb has a team of amazing web developers and designers who can help make your biggest Valentine's Day wish come true…yes, a fresh redesign of your website.