Oneupweb : Vancouver 2010 Winter Olympics Get Social
The 2010 winter Olympic Games have been full of exciting ups and downs. From Shaun White's snowboard run for the gold, to the interesting outfits of male figure skater Johnny Weir to Apolo Ohno's near crash with the Chinese, there have been plenty of exciting moments for fans to dig into. And this year, the Olympics have become more integrated with social media than ever before, resulting in the creation of some pretty cool new social tools.
Meet the Olympic Pulse.

Here you'll find many different ways to stay updated on all things "Vancouver 2010″. You can view the "Tweet Sheet", where tweets from athletes and NBCOlympics.com are posted.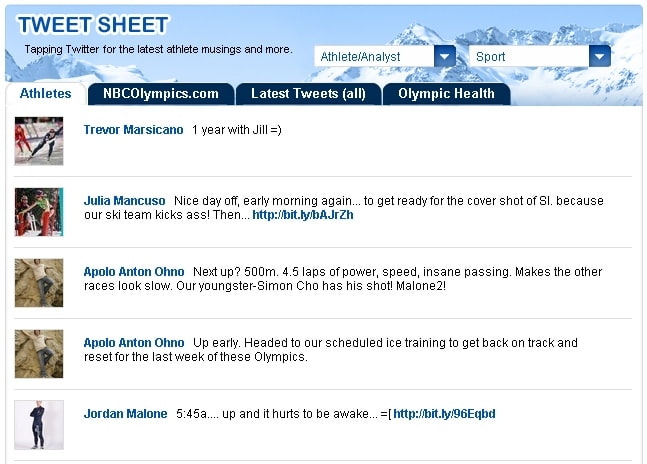 Or you can try something a little more abstract like the Olympic Tracker. This neat tool uses images of a topic to sort tweets by popularity. The larger the image is, the more tweets it has received. You can also choose the time period you want to view. So you can view popular topics by adjusting the slider on the right side.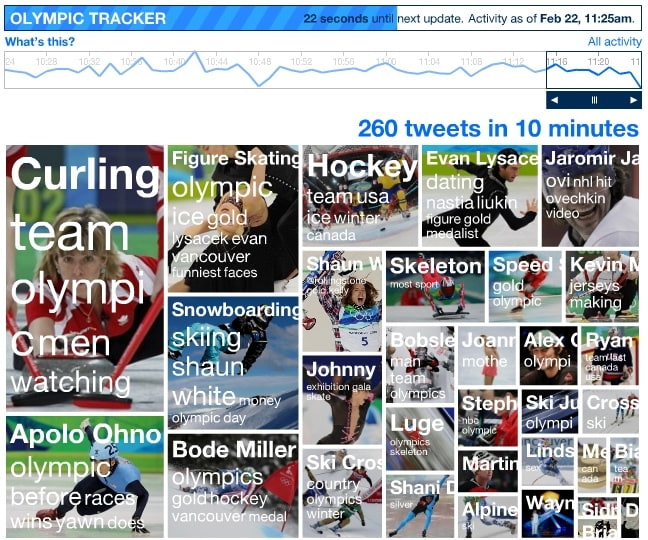 You can also see what's being dug up on the Olympic Games from Digg.com, embed a widget into your social profile or use RSS to get your proverbial IV drip of "Vancouver 2010" if you prefer. There are also some pretty slick photo and video interfaces where you can view celebrity sighting photos at the games and receive email and mobile alerts.
You can also just use Vancouver Olympic Games official Twitter and Facebook pages to keep up with the games. Are you an Olympic enthusiast? If so, let us know how you like to use social media for the 2010 Olympic Games!