Oneupweb : Jawbone Stimulus Funny Video Contest
Video contests have been an ongoing trend for years now. They are a great way to creatively engage users with your brand and get your message out there through all the appropriate viral and social channels.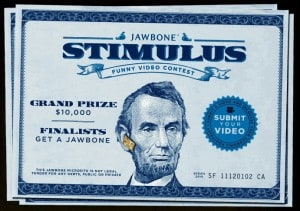 The latest video contest of interest is the Jawbone Stimulus Funny Video Contest, which calls for users to make videos "that showcase funny moments caused by unwanted and unexpected background noise during a phone call."
The winning video will receive $10,000.
Funny videos usually equate to shareability, so it will be interesting to see how this one goes.
Know of any great video contests? Get ready to share!