Oneupweb : What's the Mobile Apps Haps?
Last time I blogged, I took a different angle on the mobile marketing space—I talked a little about QR Codes and "real world" mobile marketing potential. So today I'd like to get back to talking about some of the latest haps in the mobile apps space.
Google Voice
As you may recall Google had submitted a native iPhone app for their Google Voice product, which was denied approval for the App Store by Apple. While there hasn't been any word on whether Google's free app would be resubmitted, or reconsidered for that matter, Apple has decided to allow a couple of third party Google Voice apps including: GV Connect and GV Mobile+—both of which will run you $2.99. So now iPhone users are free to use the Google Voice product from their iPhones wherever they may be—just not via the official, free app.
And speaking of wherever you may be, a lot has happened over the past few months in relation to location based mobile apps. In fact, it seems like pretty much all of my apps are suddenly asking for permission to use my location for one reason or another these days—sometimes I can't even figure out why. A few highlights of these new location based developments include:
Facebook Places
One of the more noteworthy (or at least more hyped) new developments in location based apps was Facebook's release of their Places feature about a month ago. Comparable to Foursqaure, Facebook Places allows you to "check-in" to the places that you visit as you're running around town, with the addition of Facebook specific features—such as sharing your check-in as a status update and alerting you when you have Facebook friends at the same location/event.
Checkmate
And for those of you who like the idea of location based social apps, but just don't have the time to slow down and check-in as you're running around town—or maybe don't have the presence of mind to remember to check-in—I'd like to introduce you to Checkmate. Checkmate is an app that integrates with iPhone and Foursqare allowing users to set up their favorite places in order to auto-check-in. That's right, all you have to do is have your iPhone in your pocket and Checkmate will detect that you've entered an establishment, and automatically check you in via your Foursqaure account. Currently Checkmate only works with the iPhone and Foursqaure, but they plan to expand to be supported by other devices and services in the future.
EveryTrail
This is a really cool app which allows you to map your trip with your phone or GPS. You can add trip photos to your map along with comments. And you can also share these maps either through the EveryTrail community or on your blog or website.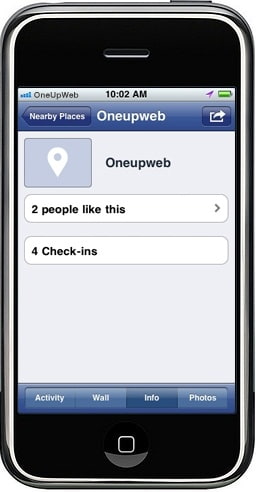 ArtPrize & SCVNGR
As mentioned in my last post, plenty of folks are doing some really creative things with SCVNGR. One that caught my attention recently is ArtPrize in Grand Rapids, MI. For the second year of this very successful event they've created scavenger hunts around downtown Grand Rapids and are rewarding daily winners with a variety of prizes. If you're planning on attending ArtPrize you'll have to be sure to try one of these SCVNGR challenges out . And while you're there, be sure to check out one of the entries in the competition created by one of our very own designers.