Oneupweb : Will The Bing Social Layer Really Impact Search, or is it Just Another Lame Attempt at Social Integration?
Well, we saw it coming and here it is….Bing just announced that they've begun integrating Facebook 'Like' data in search results, which is appropriately named, The Bing Social Layer.
And as is typically the case with any kind of social/search integration, we're starting to hear a lot of "the sky is falling" talk about how SEO is dead. Well, it's certainly not. But I will say that I believe this to be the most significant change we've seen in a long time as it relates to search, and potentially the start of a whole new chapter in SEO.
How did this partnership with Bing and Facebook come about? For years, Bing has powered web results in Facebook and has invested millions in the social network giant. And now, in part due to the rollout of Facebook Open Graph earlier this year, the two companies feel the timing's right to add this new layer of social media and personalization.
Facebook Co-Founder Mark Zuckerberg made the announcement, saying, "What makes this a great partnership is that in this case Microsoft is the underdog in search. In fact, I couldn't think of anyone better to be working with to build the next generation of search!"
Before I get into my thoughts on this new social layer, I'd like to comment briefly on this statement made by Zuckerberg. Here's the first thing that comes to my mind: YOU'RE the underdog in search! There are over 500 million people on your network, people who spend a ridiculous amount of time there, and nobody uses it to search the Web—even though you give them that option.
In an article written by Danny Sullivan over on Search Engine Land, he says that in talking with Facebook's CTO, Bret Taylor, he learned that:
"This is also not the beginning of a push for Facebook to have its own search engine. Taylor stressed several times to me that Facebook isn't focused on offering general purpose search. In fact, most people are not even trying to do general searches from Facebook, he said."
Could the fact that Facebook Search brings about an incredibly awful user experience have anything to do with the fact that nobody uses it for general searches? I wouldn't rule it out.
Okay, so Facebook doesn't want to build their own search engine. Fair enough. But if there's one thing we've learned from Google over the years, it's that search advertising is worth hundreds of billions of dollars. There's no doubt that partnering with Bing is easier than building their own search engine to find, retrieve and serve web results. But who has more to gain with this partnership, Facebook or Bing?
What if this whole social layer evolves to be something awesome that gives Bing enough information that Google can't get? And what if this gives Bing enough of an edge to start gaining more market share to a point where they're no longer the "underdog," as Zuckerberg describes? Is Facebook going to get a cut of the increased pay-per-click revenue that Bing would be pulling in?
Now obviously I don't have all the details on the terms of this partnership, but on the surface it seems like, in part, this is an alliance intended to take down Google. And it's one in which Bing has a whole lot more to gain from.
So what is The Bing Social Layer? In a nutshell, Bing is going to start recommending content based on what your Facebook friends like. In the same article I referenced above, Danny talks about the types of results he saw when trying out this new feature. He liked the idea of this new social layer, but it was hard for him to get 'Liked' Results to appear, saying that, "After running more than 40 searches, fewer than 10 gave me things that my friends liked."
Keeping in mind that this just rolled out two days ago, I would argue that at this stage of the game, and with the relatively low adoption rate of Facebook Open Graph up until this point, a nearly 25% occurrence of 'Liked' Results is pretty significant.
Sure, right now you're likely not going to get any personal recommendations when you search for "dishwashers". But that's because up until now, implementing Facebook 'Like' buttons on their websites hasn't been all that important for a lot of companies. Right now, how many dishwasher manufacturers or retailers do you think make it easy for people to 'Like' their products, not only on their websites but across the Web? Not many. In fact, even Best Buy, one of the most forward-looking companies out there when it comes to social media, does not have 'Like' buttons on the Dishwasher product pages of their site. They give people the option to Share products, but that's different.
More importantly than making it easy, how many companies right now make it a point to have people 'Like' their stuff? If this type of "Like Data" catches on and starts to really impact search results, I'm sure we'll eventually start seeing 'Like' buttons popping up everywhere, not just on sites and blogs, but in emails, newsletters, videos, RSS feeds, mobile sites and apps—basically any piece of content that it can be.
For the searches that Danny did receive 'Liked' Results, it was primarily from news sources, including TechCrunch and WebProNews. Well let's examine that for a second. For one thing, news is always going to be one of the most shared pieces of content on the Web, so that's expected. But what I think is more telling in this case is that, in general, news sites are ahead of the pack relative to social media integration, and many of them make it very easy to 'Like' their content right now.
For example, here's a prominent 'Like' button on the top of a TechCrunch article: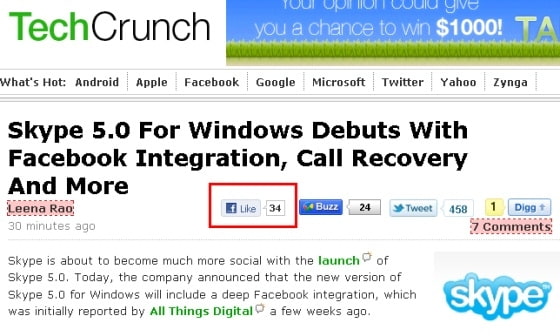 And here's one on WebProNews: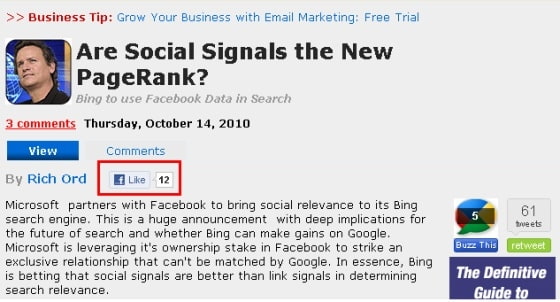 The question is….is this new social layer enough incentive for companies to more widely adopt Facebook Open Graph and the 'Like' button? After all, who cares about Bing? Well, my answer to that is that this is where search as a whole is heading, and for companies that rely on search but question the value of social media….here it is.
Don't get me wrong, I believe that the more traditional rules of SEO, like linking and keyword relevancy, will always play a role. After all, there's a vast amount information that will never be 'Liked' until it is first discovered through the search engines. And this relevant to another point that Danny makes regarding personalization. He says, "Personalization has to start somewhere, with core "unrefined" results. SEO can help position you better on the starting line."
I've said the same thing for a long time now, because up until this point it's been true. Before Google can personalize your search results based on your web history, they need to first have some history. If I've never done a search in Google for "What is Bieber Fever?", I'd get clean, "unrefined" results (unless there's some content relevant to my location). But Bing Social is different. It's not about MY history. The fact that I've never done this search doesn't matter. It's about my friends' history and what they have done. And this is exactly why this has the potential to be a real game changer—that and the fact that it's coming from Facebook—not Flickr, not Twitter, not Delicious, not Google Buzz or Profiles, and not some other social outlet.
I think there's a lot to play out here, and again, I think traditional SEO rules still do and will continue to apply. But I also think that the right partnership and foundation has finally been set to truly start changing the whole search experience as we know it.