Oneupweb : Words from a Writer – An Interview With Doug Stanton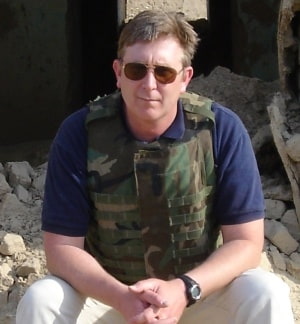 I was absolutely thrilled when Doug Stanton said he would be our guest on the March episode of Be Relentless: Business Success Against the Odds. As the New York Times bestselling author of In Harm's Way and Horse Soldiers, Doug really knows what it takes to be a successful writer. The constant struggles, the relentless drive—he's been through it all and had some amazing experiences as a result.
The idea behind our new monthly podcast series is to profile the ups and downs, do's and don'ts and mesmeric lives of Michigan's most exemplary business professionals—those who have relentlessly pursued and found success against the odds. I'd say Doug has done just that.
I could go into how he worked during his early high school years, saving all his money so that he could attend Interlochen Center for the Arts. Or how he gave up a good job as a college professor to pursue his real dream of some day becoming an author. But I think what makes Doug Stanton's story so compelling is the experiences he has had while in the midst of writing his books. He nearly drowned in Cape Horn Waters and spent time with soldiers in Afghanistan. It's clear that he's relentless when it comes to getting a story, and I think that's what makes his books so compelling.
The interview he gave with Oneupweb CEO and Founder, Lisa Wehr, and Oneupweb Director of Operations, Tim Kauffold, was no different. I got a sneak peek yesterday, and was glued to my chair as he relates an acting lesson he once had with Harrison Ford and talks about the current National Writers Series. So what are you waiting for? Go to iTunes, download the podcast, and discover Doug Stanton's story for yourself.
And don't forget to stay tuned for next month's episode, featuring….wait for it….a business owner who can tell you just about anything you want to know about political participation in Cuba, and therefore, makes jam for a living. Have a guess who it is? Submit it via the comments option below.