Oneupweb : Yahoo Launches Search Direct
Marking the first big change to the Yahoo! search functionality in quite some time, Yahoo! announced yesterday the launch of Yahoo Search Direct. If you haven't seen the feature in action, it is similar to Google Instant, but instead of changing the search results page, all of the changes occur within the search suggestion box.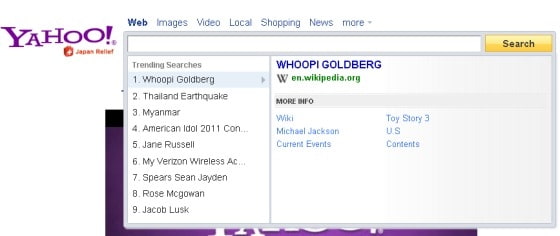 Described by Shashi Seth, Head of Yahoo! Search, as the "next generation of search" Yahoo Search Direct has a number of similarities to Google Instant, but also has features that make this tool stand out from Instant.
Trending Searches: Unlike Google Instant, Yahoo Search Direct starts working the moment your click into the search box. Before you even begin to type, Yahoo Search Direct displays the top trending search information. This information is updated frequently, so it is a good representation of what is trending at that moment in time.
Search Previews: This feature is designed to predict what you are searching for and changes as you type in your query.
Direct Answers: This feature is designed to provide you with answers for common search questions, such as an extended forecast, phone number, address and a variety of other questions without the need to go to a results page.
Direct Results: Gives you the opportunity to scan search results to find what you are looking for without sending you to a search results page. As Yahoo! describes it, "No more overwhelming pages of links."
Rich Content: To help you find what you are looking for.
On their blog, Yahoo! states that this new feature is designed to provide the top results in a way that is simple to comprehend, by essentially "removing all the noise" from search results pages.
This approach to simplifying search is very similar to the approach that Bing is currently taking. While it seems like Google is set on enhancing listings, even at the expense of usability, Bing and Yahoo! are going in the complete opposite direction; make search as simple as possible. It will be interesting to see how this plays out. Will Yahoo!'s new feature take market share away from Google, will it draw users away from Bing, or will it just fade away?