Oneupweb : Yelp Under Scrutiny—What Does This Mean for Businesses?
It's a question asked of all social networks a few months after launch—how are they going to monetize all of that traffic? How will they sustain?
Facebook faced it a while back, and now paid advertising is available for those looking to reach their target audience (I've also heard that they toyed with charging users per month to use the interface, but it never seemed to hold much water). Twitter is also working on creating a revenue model to help keep things going. Because of the transparency that social media brings to the business world, each company must tread carefully as they look for ways to make money from their networks.
Like other high traffic websites, Yelp determined that selling advertising was a straightforward and simple way to make money. The local review site began selling advertising to companies and recently faced accusations that preference was given to participating companies. Essentially, they were accused of showing more positive reviews (or placing them higher in the list) for companies who were paying for Yelp advertising. Companies who opted out of paid advertising were reported noticing more negative reviews, or missing positive reviews.
To avoid the extortion charges it faced, Yelp has recently made some changes to their site to create a more neutral playing field for advertising businesses and non-advertising businesses.
This article from Search Engine News does a good job of highlighting the changes, but in a nutshell, let me highlight a few points:
1. Companies who are paying for Yelp advertising will no longer be able to choose their favorite review to showcase on their profile page. No longer will Yelp advertisers be able to choose the "best" review to put front and center on their profile. Likewise, companies will no longer be able to remove negative reviews in exchange for paid advertising.
2. Yelp has removed the filter from its algorithm, allowing all reviews to show up on the business page. No longer will only favorable reviews show up for advertising companies.
3. As a value ad for businesses, video uploads will soon be possible.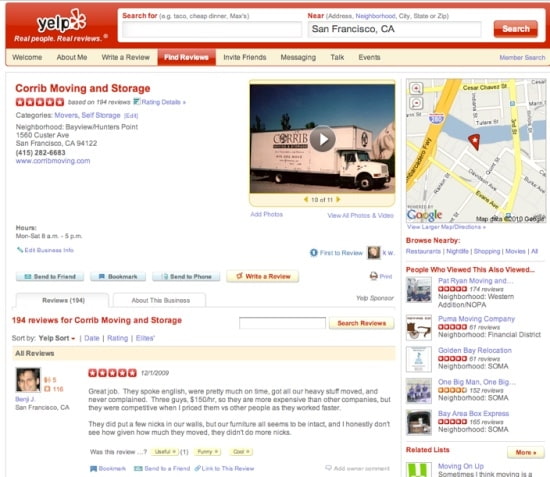 4. A "Small Business Advisory Council" had been created to help keep the communications channels open between Yelp and small businesses.
I am sure we'll hear more in the coming weeks, but Yelp's official blog provides some insight into their position on the accusations and the efforts their making to help businesses and consumers feel more confident in the information their website offers.
Accusations of biased reviews are serious—especially with the level of trust placed on social networks and review sites. Local businesses rely on the testimonials of their customers, and when there is skepticism that what is being presented is not the complete picture, it can cast a negative shadow on the review system and the business itself. I am optimistic that Yelp can clean things up and continue to be a helpful review site for local businesses.