Oneupweb : Yes, Today Is Cyber Monday
So last Friday I was on the couch, recuperating from all the turkey and stuffing I ate the day before, when my dad turns to me and says, "What's the deal with Cyber Monday?" Apparently the dj on his favorite sports radio station was talking about why he likes Cyber Monday much better than Black Friday. No overcrowded malls, no one getting stampeded, no need to wake up early and parade around in our pajamas, etc.
I tend to agree. Black Friday scares the crap out of me. And if my dad, of all people, was asking about Cyber Monday, that could only mean one thing. Cyber Monday has gone mainstream.
#CyberMonday is the number two trending topic on Twitter right now (behind Leslie Nielsen). Special codes, 70 percent off deals and more are being tweeted at a rapid pace.
I decided to head over to Facebook to check out what some of my more-frequented brands were doing to promote Cyber Monday. Gap was a complete let-down. At least Target had a wall post mentioning Cyber Monday. Amazon, an online retailer, was the clear winner to me, with wall posts including specific offers and pictures of items that were on sale, along with a link back to the online store.They'd even changed their profile picture to indicate that they were having special Cyber Monday deals, as shown below.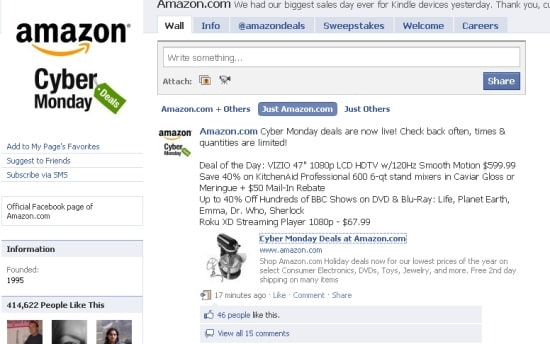 So why are the brick-and-mortar stores pretty much ignoring Facebook when it comes to Cyber Monday? With thousands of fans that see these brands' wall posts in their news feed, there is no reason not to broadcast special deals on this social network.
What are your thoughts on Cyber Monday? I'd love to get your take!