Oneupweb Reviews : Tumblr
Tumblr is a free micro-blogging service that allows you to create a tumblelog. A tumblelog is a customizable mini blog/online scrapbook that allows you to easily and quickly express yourself by posting text, photos, quotes, links, audio and video.
Tumblr really emphasizes fast and easy. I found the only thing easier than posting to a tumblelog is signing up for the service. According to Tumblr it only takes 10 seconds to sign up; they weren't lying. I didn't have a stopwatch running, but I'd say that I was good to go in about 10 seconds flat.
Anyway, this is the only form you need to complete to become a Tumblr:
Note the big, easy to read letters! I couldn't help but feel like I was looking at the blog version of a Jitterbug phone.
After signing in you are directed to your dashboard which offers tabs to immediately begin posting.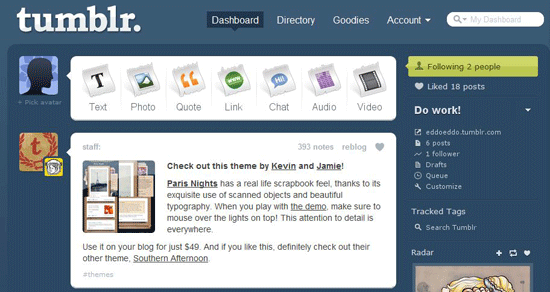 From here you can begin expressing yourself until your heart's content. Within a matter of minutes my tumblelog began to take shape as I was quickly able to post a text entry, a photo and a website link.
It was ridiculous how easy it was. As far as posting larger media files, I could post photos as fast as I could find them on my computer. Tumblr also has features that allow you to post to your tumblelog while you are on the go (or just plain busy):
• Bookmarklet – You can drag a Share on Tumblr button to your web browser's bookmark toolbar to quickly post to your tumblelog.
• Mobile + Email Posting – Email or text posts from your mobile phone directly to your tumblelog.
• iPhone App – The Tumblrette app makes it simple for iPhoners to upload tumblelog content.
• Instant Messaging Posting – Allows AOL users to post IM's directly to their tumblelogs.
All in all, I think this is a great micro-blog service. I am not an avid blogger – what little I do, I post to my Facebook page. What has always bugged me about blog pages is how cluttered they can get. I really like how clean the tumblelogs are and I am very impressed with how easy and fast it is to post various forms of media.
In addition, I think a business could really benefit from using Tumblr:
• A business could post company messages in a variety of ways – text, photos, quotes, links, chat, audio and video – to benefit different audiences. A properly maintained tumblelog would be very good for reputation management.
• With time management always an issue, Tumblr can benefit a business because it's so easy to post messages and it's easy to maintain.
• With its customizable interface, it would be easy to design a tumblelog to match your business's theme, color, design, etc. I can see a graphic design department going nuts with this one.
Bottom line: I am usually very picky about the products and services I use online. However I like what I see here. It's simple, clean and easy to use.
The Official Oneupweb Review… OneUp Thumbs-Up.