Oneupweb Reviews : Vimeo
I'm a big fan of skiing and snowboarding. Unfortunately, the weather last Sunday was great for anything but. Single digit temps and 30 mph winds. A true die hard would've hit the slopes, but I wimped out and got online to find some ski and snowboard videos.
YouTube was a disappointment in that playing their videos in full screen was torture. I'm sure you've been there and experienced the same pixelated mess. I needed to find a site where HD was the standard and not the exception.
Enter Vimeo. Oneupweb posts our videos there, so I thought I'd check it out. I was looking for a quick fix. Maybe 10 minutes of deep powder riders in British Columbia. Well, 10 minutes turned into 4 hours and I was hooked on Vimeo.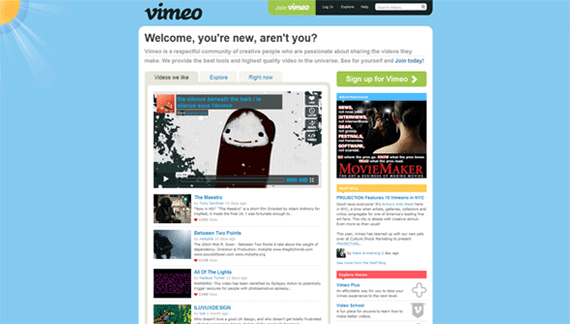 At Vimeo you'll find only high end, artistic user-generated videos. No vert ramp skater clips shot on cell phones here!
Finding what I was looking for was fairly straight forward. The site search allows you to search by Videos, People, Groups, Channels and Forums. I searched for "snowboarding" in Videos, clicked on a thumbnail that looked good and discovered a way-cool film about pro snowboarders, from South Korea of all places. The original is a classic travelogue with amazing photography.
It features awesome snowboard talent crossing the globe in search of great snow and the next big money contest. The quirky twist to this film is the slope-side signs in Korean and the 3,000,000 Won prize check the winner was holding on the podium. What really blew me away was the rich, saturated colors, incredible details and awesome sound. This is online HD heaven in full-screen, woofer-thumping glory.
But wait – there's more. Vimeo is an online film and video community where you can connect with users in all sorts of ways. Vimeo Groups allows you to create communities. Vimeo Channels showcases videos around a common theme. Examples are: Video Art, Short Films, Slo-Mo, Animated, Documentaries and 19,000 more channels! Projects is a forum where you can meet new people hoping to collaborate on video projects. There's even a Facebook Connect feature to integrate Facebook with Vimeo. The more I explored, the more impressed I was.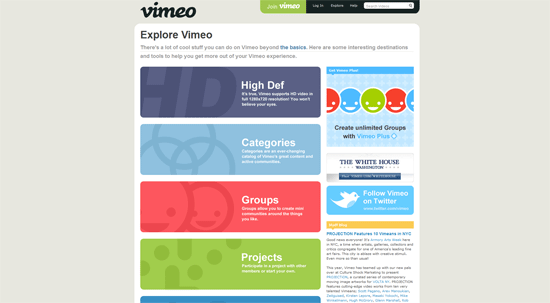 Connecting with other Vimeo users is easy. First as a contact, then you subscribe to their videos to see their new submissions. With a free basic membership you can connect to your hearts content and upload 500MB every week. With a Vimeo Plus membership your upload limit is 5GB per week, plus other perks. This will set you back a whopping $59.95 per year. Are you kidding me? What a steal!
In the mood for a video but don't know what to watch? Check out the staff recommendations on the home page. Or click the Explore tab for more ideas. The Right Now tab shows the latest videos just uploaded or in the process of uploading.
Vimeo also has a widget that's customizable for your blog, social network profile or anywhere that supports embed code. The widget automatically updates when you upload new videos.
I could go on, but you get the idea. I like the site and recommend it for those chilly winter weekends spent hibernating.