Oneupweb's Special Holiday Report: Consumers Taking Search Social
I went home last night singing "Jingle Bells, Batman smells" (you know the rest). My husband thought I was crazy. But whether he wants to admit it or not, we are now in the midst of the holiday shopping season. Arm yourself with carols, stock up on those chocolate-sausage-cheese presents and get social.
I'm sure you're saying: "Wait. Get social? What's that have to do with the holidays?"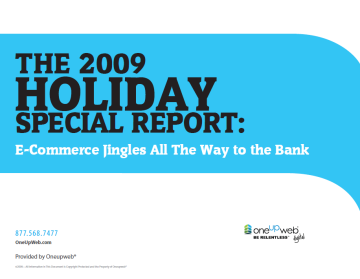 According to the Special Holiday Shopping Report released by Oneupweb today—everything.
Originally our researcher wanted to take a look at the effect that the recession has had on consumer buying habits. But what she found is that consumers are now taking search social. In other words, budget-conscious shoppers are looking online to conduct their shopping, and they're searching for product information on social media sites.
I know I've done it. I get home from work, a little too tired to talk myself into trudging to the mall. So I flip open the laptop, Google the product or store that I'm intereted in (yes, I recognize Google as a verb), and then head over to social review sites and Twitter to see what others thought about the store or product before I make a purchase.
And according to this new report, I'm not the only one. Get your free copy today to discover the keys to online sales success this holiday and well into 2010. Then, let me know your thoughts. Are you advertising on social networks?