Online Video – Are You Sure People Are Listening?
Hello everyone. My name is Sarah. I'm a natural search project manager at Oneupweb, and I wear hearing aids. I'm not totally deaf or anything, but I'm just hearing impaired enough to make life interesting ("What did you say? There's a unicorn in the parking lot?").
Just the other day, I was talking with my lovely co-worker Christopher, and I asked him if he could find any documentation online about search engines not being able to follow links in drop-down lists that use option tags.
He found this video from Matt Cutts, which (allegedly) explains that search engine spiders will have a tough time following those links because they link to pages like this:
<option value="page-name.html"> Link </option>
Instead of like this:
<a href="page-name.html"> Link </a>
Of course, Christopher had to listen to the video for me. In cases like these, where you're just looking for a quick answer, the use of video bothers me for a number of reasons:
1. Video is hard to hear.
2. Video is time-consuming to digest.
3. Your desk either suddenly becomes the noisiest spot in the office, or you have to put on headphones.
In fact, the time-consuming part annoys me almost more than the fact that videos can be so hard to hear and interpret. You can't scan videos in an instant like an online article. You can't go back and instantly re-read a paragraph a few days later. I have to wade through an entire video in order to figure this out? I really don't have the time.
Don't get me wrong: I love how video is revolutionizing the web. But there's a time and a place to use it. Video should complement other existing data already available on your site, whether it's a separate article, or even a verbatim transcript.
One analogy is that if you utilize image ALT attributes for your visually impaired users, you should also accommodate the hearing impaired. Not to mention that both alternatives are best practices for search engine optimization as well (search engine spiders can't "see" images or "listen" to videos either).
Up Next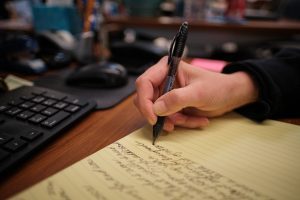 As content creators, we're continuously building content (for our agency and for our clients) to best meet the needs of potential and existing customers. While meeting those needs is important to us, the ultimate goal of content creation is always to drive leads and sales. Gated content is a valuable part of many marketing strategies,...