Optimize for Google Universal – Local Results
In the second part of our 4-part series on how to optimize your site for Google Universal, today we are going to focus on Google Maps and local results.
What is Google Maps?
Available at maps.google.com, Google Maps allows users to search for local business listings, get driving directions, and more. It's convenient because you can enter in a search term such as "traverse city restaurant", and not only will Google Maps bring up a list of restaurants complete with phone numbers and addresses, but it also maps out their exact locations, like this: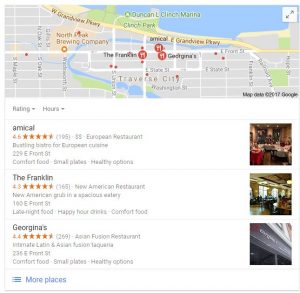 How is information from Google Maps incorporated into Universal Search?
Here's a good example: a few months ago, I was trying to find a phone number for the local Discount Tire store. I entered "discount tire traverse city" into Google's web search box, and voila- all the information I needed was right there in front of me on the search results page: phone number, map and all.
Side Note: Because Discount Tire came up so prominently in the SERPS (define), I actually did not click on the business listing. So keep in mind that Universal search may cause clients to pay a visit to your brick-and-mortar location instead of your website, and those kinds of visits can be harder to track.
Another Side Note: The second listing (at this time) is for Junior's Discount Tire and Wheel? This is a great example of how a business can take advantage of Google Universal and Google Maps- even without a web site.
How can I optimize my Google Maps Profile for Universal Search?
The first thing you should do in order to optimize for Google Maps is to formally verify your site with Google. This can be done either via mail or by phone, and helps Google to verify the authenticity of your business.
You should also take advantage of the detailed information that you can provide to Google – and potential customers – within this section. This includes:
Required Information:
This includes basic things such as your address and phone number, as well as company name and description. Be sure that your company name and company description contain your most important keywords that you want your business to be found on. Remember that users will be reading this text too, so copy should be well-worded and concise but also pique their interest.
Hours & Payment:
And if your business has standard hours of operation or forms of payment, take the opportunity to tell your customers about them here.
Photos:
A new feature that was just recently added, Google Maps now allows businesses to upload 10 photos to their profile, something that Amical (a local TC restaurant) is already using to their full advantage (yum!).
Custom Attributes:
Whether you want to add an "areas served" section or a "sample dinner menu" section, Google also allows you to add all kinds of descriptive custom attributes about your business.
Reviews
Not only does Google Maps itself now allow anyone to log in and post a review next to a business listing, but Google also incorporates reviews from a variety of other online sites, such as Yelp.com, JudysBook.com, and many more. Whatever your niche is, ensure that you're also building a presence on other local online directories and resources as well.
Coupons
Google Maps also has the ability for your business to feature coupons. What better way to stand out from the pack?
Incorporation of Google Maps into Google Universal results not only represents how optimizing your site for Google extends to a wider variety of resources than ever before, but it also demonstrates how the presence of local search is continuing to expand online, offering users instant access to phone numbers, reviews, maps, and so much more than traditional off-line directories have ever been able to offer.