Paid Advertising in Social Media: YouTube Promoted Videos
A while back, I wrote about a new PPC (pay-per-click) model that was starting to appear in social media channels like Facebook and Twitter. Because of the positive response, I thought I would continue that theme with a look at YouTube Promoted Videos.
You may have noticed that the once advertising-free YouTube is now flushed with ads. Google continues to monetize the site and since visits reached over 85 million last month, don't expect these ads to go away. There are many ways to start advertising on YouTube, but let's focus on Promoted Videos.
What are they?
YouTube Promoted Videos are pay-per-click ads that are displayed after a search is performed. These ads look similar to the typical results you would see, except they are displayed on the right-hand side of the page under "Promoted Videos", or at the top of the page, depending on the keyword bid.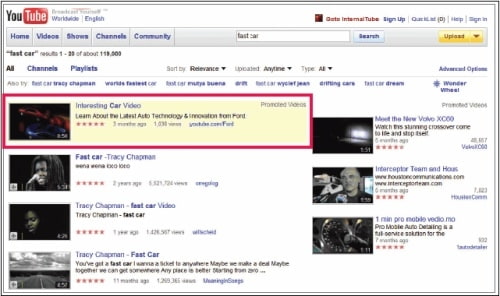 How do I get started?
To get started advertising with YouTube Promoted Videos, you will first need a video to promote. You also need an AdWords account since Promoted Videos uses the Google AdWords platform. The next step is to choose the keywords that will trigger your ad to display and how much you are willing to pay for each click. For more information, visit the YouTube Promoted Videos page.
Why YouTube, why now?
Video advertising provides the ability to highly engage your audience, and with YouTube Insight, you can gather statistics to get a better understanding of how your campaign is performing. But mostly, YouTube is one of the biggest and fastest growing sites on the internet, so chances are good that your target audience is there—and the video format allows you to engage your target audience like never before.
The Big Picture
When examining various advertising options available across the web, it is important to have a well planned campaign structure with all components tightly integrated. It might not make sense to run a display campaign without a paid search campaign, for instance. By having advertising diversity across the web you will not only be able to reach new audiences, but also improve the results of your core online marketing channels. This is because running a display campaign will increase your brand awareness and recognition, which in turn increases searches on your brand name and keywords surrounding the ad's message—which can then be capitalized on through a paid search campaign.
As internet marketing options continue to grow, it is important that your marketing campaign includes a diverse array of marketing channels and the campaign is crafted with a specific objective in mind. So start with your goal and then work your way back to determine where you'll need to be to achieve success.
If you are ready to get serious about achieving your online marketing objectives in 2010, YouTube Promoted Videos could just be a piece in the greater marketing puzzle. Ready to take your brand to the next level? We can help.